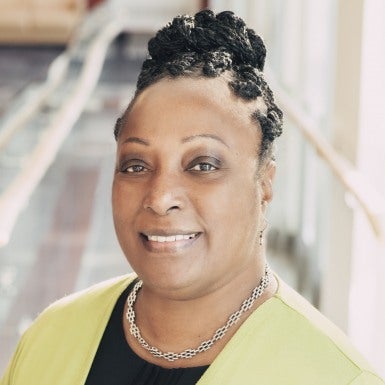 An experienced leader and champion in the fight for equality, Yolanda McClean was elected Regional Vice-President representing Ontario at the 2021 National Convention in Vancouver. She is a progressive voice for change and inclusion in CUPE, the labour movement and the community.
Yolanda has developed strong anti-racism programs and caucuses for workers of colour in CUPE sectors across Canada. She is working to increase the participation of women and equity-seeking groups at all levels of the CUPE. Building employment equity is one of her key goals.
Since 2013, Yolanda has also been President of the Coalition of Black Trade Unionists, providing a strong voice for black workers within the trade union movement and challenging organized labour to be more relevant to the needs and aspirations of black workers.
As Equity Vice-President for CUPE 4400 (representing 12,000 Toronto education workers), Yolanda has first-hand experience with the struggles of workers – particularly part-timers – for better wages and benefits, good working conditions and strong public services.  As a racialized sister, Yolanda knows that the struggle for equality needs to be incorporated into all activities and projects.