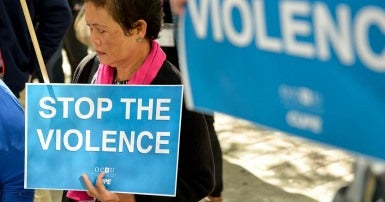 Assaulted by patients, unheard by government and reprised against by employers when they speak out, hospital staff with the Canadian Union of Public Employees (CUPE) at 120 hospital sites in communities across Ontario are determined to stop growing incidents of workplace violence by bargaining improved protections.
A rally today in Toronto with hundreds of CUPE members and allies, lent support to CUPE's proposals in recent contract negotiations on behalf of 27,000 Ontario hospital staff to increase protections against workplace violence.
A study in the New England Journal of Medicine found that health care workplace violence is an "underreported, ubiquitous, and persistent problem that has been tolerated and largely ignored.'' Those most at risk are staff working directly with patients in emergency departments and psychiatric and dementia units.
"Many of the laws that protect workers – all workers – not just those who belong to a union, are there because of the activism of unions to make workplaces safer. We should never forget that. I proudly recognize and support the commitment of our Ontario hospital sector members, who have put violence squarely on the bargaining table. They have the full support of our national union in this brave fight that will make hospitals safer and benefit workers and patients," says CUPE National president Mark Hancock.
CUPE's negotiations with the Ontario Hospital Association (OHA) broke off on September 21, after the hospitals "refused to budge on even the most fundamental items around workplace violence," says CUPE's Ontario Council of Hospital Unions (OCHU/CUPE) president Michael Hurley.
The hospitals wouldn't agree to:
Commit to work together to make our hospitals violence-free;
Post signs indicating that violent, aggressive behaviour will not be tolerated in our hospitals;
Jointly make a request for the investment needed from government to make hospital workplaces safer from violence.
The rally today is the start of a "major campaign in our province to spotlight and counter violence in our hospitals," says Hurley.