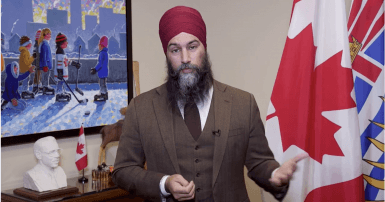 Federal NDP Leader Jagmeet Singh, addressing CUPE BC convention on Thursday, thanked delegates and the entire labour movement for their efforts in fighting for workers' rights, safe workplaces, and pensions—efforts that helped elect his team of 24 New Democrat Members of Parliament who fight every day for working people and families across Canada.
"This pandemic has been really tough," said Singh, highlighting federal budget inadequacies that COVID-19 has exposed: insufficient funding for health care, including a long-term care system starved for resources, and the unwillingness of the governing Liberals to partner on child care, to name a few.
"Seniors bore the brunt of this pandemic with their lives, and people lost their jobs and businesses," he said. "It has been an incredibly difficult time."
The NDP Leader criticized the Trudeau government for consistently trying to do no more than the minimum and assured delegates that the NDP has been working hard to get more help to more people. The Liberals started off with a COVID Emergency Response Benefit of $1,000, and the NDP fought to double that amount so that millions of Canadians could better afford to put food on the table, pay their bills, and stay in their homes.
The NDP fought for people who the Trudeau Liberals had forgotten: people with disabilities, students with no direct financial support, workers who did not have paid sick leave.
"People in this pandemic were better off because New Democrats were there," said Singh. When the Liberals first offered a 10-per-cent wage subsidy, he explained, the NDP fought hard, along with many allies, and were able to increase the subsidy to 75 per cent. This meant that millions of Canadians were able to remain employed. Singh said the post-pandemic recovery will focus on how much we need to do to make people's lives better.
He also criticized the Liberals for undermining workers' fundamental rights to negotiate. The federal government ordered CUPE members at the Port of Montreal back to work and voted down an NDP motion to implement universal, publicly-delivered Pharmacare. When the NDP tried to remove profit from long-term care, Liberals voted against the motion despite clear evidence that for-profit care results in worse conditions of care for seniors.
Singh thanked delegates for being a part of the movement and for fighting to make communities better, and contrasted the Liberal government—friends of the ultrarich, for-profit long-term care, and big pharma—with the NDP.
"New Democrats have always known whose side we stand on," he said. "We stand on your side, we stand with workers, with people and we will always do that."