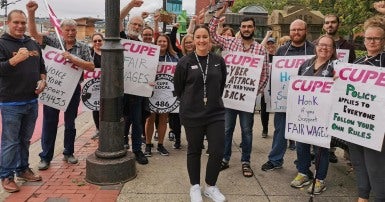 CUPE 486, representing over 133 City of Saint John inside workers, has begun strike action this morning.
The members of CUPE 486 work in clerical, administrative, support, IT, and technical roles, encompassing various municipal services including Dispatch Services for Police, Fire and 911, Court Services, Recreation, Customer Services, By-Law Enforcement, Financial Services, Permits, among others.
Picket lines have been set up in various locations in the city.
"The City of Saint John has refused to come back to the bargaining table with a fair wage offer. They are forcing a strike because they refuse to honour their own wage escalation policy for city workers," said Brittany Doyle, President of CUPE 486.
 
The City is intent on enforcing a contract that falls below the cost of living.
"I hope the City comes to their senses, so that they bring a fair deal and avoid unnecessary strife and service interruptions.  All we ask for is a reasonable wage package that acknowledges the cost-of-living issues we are facing as workers," concluded Doyle.