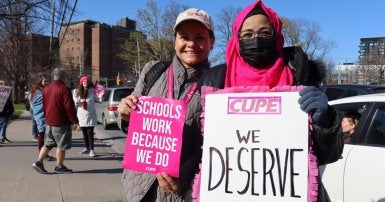 The Nova Scotia School Board Council of Unions (NSSBCU) is throwing their support behind CUPE 5047 and calling on government to get back to the bargaining table with Halifax-area school support staff. Leaders of the eight-local committee negotiated a tentative agreement with government in April. The Halifax-area local was the only one to reject the deal.
"We brought the tentative agreement back to our members across the province to allow them to have their say on it," said Lisa DeMolitor, Vice-Chair of the NSSBCU, and a bus driver in the Tri-County Regional Centre for Education. "Members of Local 5047 rejected the tentative agreement because it didn't meet their needs. They had every right to do that. School support workers across the province understand that, and we support CUPE members in Halifax in their fight for something better."
CUPE School Support locals across the province cover different classifications depending on the area. Outside of Halifax, that list includes bus drivers, cafeteria workers, tradespeople, cleaners and groundskeepers, maintenance staff, technology workers, and a host of others, on top of the EPAs, ECEs, student support workers and library staff who make up most of the metro-area membership. In the Halifax area, many of these positions are either members of other labour unions, or workers are not unionized where services (such as student transportation) are contracted out to private, for-profit firms.
"Government has been saying that they've addressed all of the requests we made at the bargaining table, and that's simply not true," said deMolitor. "There is still a lot of ground that needs to be made up, especially for our members in the Halifax area. If government doesn't come up with the funds needed to settle this contract, they're going to find themselves with a staffing crisis in September, because members are telling us that they'll have no choice but to find work elsewhere that pays a living wage."