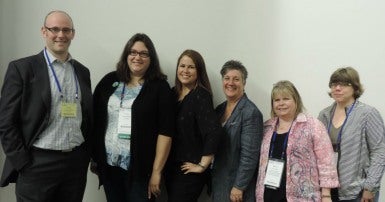 A new wave of privatization may be coming to a library near you – impacting both services and workers. Libraries are the hub of our communities and entering into risky privatization deals will drive up costs and reduce services. This was the theme conveyed by CUPE at this year's Canadian Library Association (CLA) annual conference held in Ottawa, Ontario from June 3 to 5.
CUPE held a panel-discussion exploring the economic costs to communities that use a public-private partnership (P3) model to finance public infrastructure, including libraries. With Maureen O'Reilly (CUPE 4948 – ON) and Dawn Lahey (CUPE 2329 – NL) moderating the session, panelists David MacDonald, a Senior Economist with the Canadian Centre for Policy Alternative (CCPA) and Carrie Lynn Poole-Cotnam, CUPE 503 Treasurer discussed the impact of privatization on public libraries.
"P3 libraries are a relatively new phenomenon, but P3s in general are not a new phenomenon and have been applied in many other sectors, said MacDonald. Replacing infrastructure such as libraries has a lot of implications and can be costly so municipalities have to figure out how to design, build, operate and finance these large projects.
If you actually think the library is an essential part of your community, P3s become your problem. You lose control of your building, costs are much higher, and there is no real risk transfer to the private sector which could have very negative outcomes as we have seen in other areas such as hospitals," he added.
While only one Canadian library has considered P3 – a project that was abandoned following an independent review – some other municipalities across the country are now considering the option, including Ottawa and Guelph.
"The real threat came about on July 7, 2014 when the Ottawa Library Board concretely said they would explore a P3 model for their main branch located in downtown Ottawa, said Poole Cotnam. Fortunately, we had a political moment to seize with the municipal election set for October 27, 2014 and used the opportunity to get a pulse of where candidates stood on the issue."
The results showed that out of 85 candidates, only 10 were strongly in favour of the P3 model. CUPE 503 (City of Ottawa), who represents 600 members at the Ottawa Public Library, also launched a public opinion poll touching on several important election issues – including the library. "We found that an overwhelming majority of people do not trust the private sector to keep the public interest in the forefront of people who use the library, revealed Poole Cotnam.
Our next move was to launch a campaign highlighting the value of library services ahead of the municipal election. And it is crucial to keep using key political moments for real change – we have another of these opportunities coming up on October 19 and I urge everyone to get out and vote for change. Let's not have the Ottawa Public Library become the Ottawa Private Library," she concluded.
When services are public and well-funded, they deliver a solid, reliable foundation Canadians can count on. When it comes to libraries, they are there for us when we need them and are the pillars of our communities – let's keep them public.