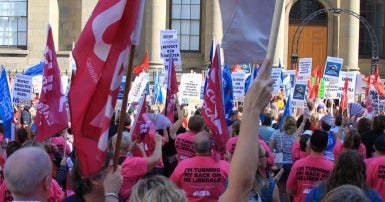 Unions fight-back legislation in Nova Scotia
Hundreds of union members from across the province descended on opening day of the Nova Scotia Legislature on September 21, 2017. The workers, from several public sector unions, drowned out the Throne Speech being given inside at the same time. They sent a message to the McNeil Liberal Government that we will defend collective bargaining rights. "The unions will be around a lot longer than this Liberal Government!"
Organized by the Nova Scotia Federation of Labour, CUPE was joined by members of Unifor, the Nova Scotia Government and General Employees Union (NSGEU), the Nova Scotia Nurses Union (NSTU), the Nova Scotia Teachers' Union (NSTU), the Canadian Union of Postal Workers (CUPW), Service Employees International Union (SEIU), IUOE Local 727 (paramedics), and the Canadian Federation of Students.
Three national union leaders joined provincial leaders to speak at the event. CUPE National President Mark Hancock led the packed agenda that also included Larry Brown, NUPGE president; and Jerry Dias, Unifor president. Other speakers included Alex Furlong, Canadian Labour Congress; Gary Burrill, leader of the NS New Democrats; and CUPE NS President Nan McFadgen.
"We're here to send a message," said Hancock. "We will take you on at the bargaining table. We will take you on in the courts. And by god, we'll take you on in the streets."
Highlights of the rally included "Stomping Steve" cut-outs that hovered over the crowd of workers and the sea of CUPE pink t-shirts and banners. The Dixie Dogs (a local, unionized six-piece band) provided music for the event, led by NS Federation of Labour President Danny Cavanagh. The rally was briefly suspended so that a military procession, which traditionally opens the Legislature before all Throne speeches, could respectfully be given thoroughfare to march through the streets of the rally.
Since 2013, public sector workers including teachers, nurses, school board and child care workers, civil servants, the arts community and many others – more than 70,000 workers – have been subjected to unrelenting interference in the collective bargaining process by the Liberal government.
On August 22, 2017, the Liberal government proclaimed Bill 148 that imposes a wage package and freezes a negotiated benefit known as the retirement allowance or service award. This benefit is eliminated for all new hires post April 2015. On September 8, 2017, the unions filed a request to be added as parties at the Nova Scotia Court of Appeal.
The McNeil Liberal Government has introduced or proclaimed seven pieces of legislation in its ongoing attack on unions.
Bill 1
The Health Authorities Act restructured the health care system, unnecessarily reduced the number of bargaining units, and attempted to assign union representation rights.
Bill 19 
Trade Union Act amendments made it harder for workers to exercise their right to unionize and secure first collective agreements.
Bill 30 
The Essential Home Support Services Act directly interfered in the collective bargaining of home support workers.
Bill 37 
The Essential Health and Community Services Act limits job action rights of more than 40,000 workers in acute care, long term care, group homes, home support, child protection and other sectors.
Bill 75
The Teachers' Professional Agreement and Classroom Improvement Act imposes a collective agreement on teachers after they rejected the contract terms three times.
Bill 100 
The Universities Accountability and Sustainability Act allows universities to override collective agreements during five-year "revitalization" periods.
Bill 148 
The Public Services Sustainability Act freezes and limits wage increases, sets the term of collective agreements and puts an end to long-service awards.
These attacks on public sector workers are unfair and likely unconstitutional. They'll also do serious damage to the economy.
The wage restraint sections of Bill 148 are wage restraints, not imposed economic increases. For example, the economic increase in the third year cannot be more than one per cent, meaning in theory something less could be negotiated, but nothing greater. The retirement allowance, a freely negotiated benefit, is being unfairly taken without being offset and in effect takes wages from members that have been deferred until retirement.
These wage restraints will reduce purchasing power as the rising cost of living outpaces wage gains. Better wages are necessary to get the economy growing and reduce inequality.
There is a better way
There are steps the Nova Scotia government can take to put people first, protect the public services we need, create good jobs and a stronger economy.
The Liberal Government should recognize the public sector as a driver of economic growth. Top quality health care and education are important industries, not a drain on society.
"Stephen McNeil would have you believe there are no alternatives. But he's wrong," stated McFadgen. "We believe change is possible."