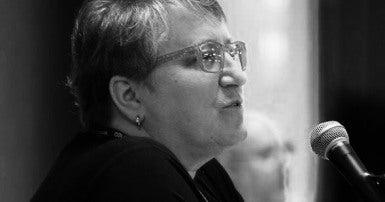 The McNeil Government is blindly moving ahead with unconstitutional, anti-worker legislation, without learning any lessons from other provinces in Canada, says the President of CUPE Nova Scotia Nan McFadgen. Today, the McNeil Government proclaimed Bill 148, the Public Services Sustainability Act, capping wage increases and freezing the long-service award as of April 2015. This will affect almost 12,000 CUPE members.
Although this move by the province does not officially end bargaining or arbitration, it destroys the rights of union members to fairly negotiate their collective agreements, a constitutional right of all workers protected by the Canadian Charter of Freedoms.
This is the same Liberal Government that said, in an open letter to union members in 2013, they would like to "clarify misinformation being circulated," declaring that they "believe in the collective bargaining process, the right to strike, and protecting workers' rights, both unionized and non-unionized." The letter was signed by Stephen McNeil.
"Reducing wages, taking away retirement income and attacking workers creates an environment that will not attract new workers and their families to live in this province," says McFadgen. "The premier is leading us down a dark path."
"I want to reiterate what our brothers and sisters from NSGEU have said. This government does not care about hard working people," says McFadgen. "Enough is enough."
The premier says he plans to ask the Nova Scotia Court of Appeal about the constitutionality of the Bill; however, unions have successfully fought and won court challenges against similar legislation in provinces across the country. Anti-worker legislation in many provinces has been struck down by the courts, and governments have fallen when they crossed the line on workers' rights, often at the expense of taxpayers and the people who depend on public services.
From Ontario, where education workers fought back and won when the Ontario Superior Court decided in favour of education unions, ruling Bill 115 unconstitutional; to British Columbia, where the Supreme Court has ruled in favour of the teachers, supporting the right to collective bargaining – union members have fought and won attempts to take away their constitutionally protected rights.
"CUPE Nova Scotia members have the full support of the national union and all our members across the country," says CUPE National President Mark Hancock. "We are 650,000 public service workers. We will back each other up. We will keep fighting until all workers have a decent wage and retirement security."
"In the coming days, we'll be working with our members and labour in Nova Scotia to determine the next steps in response to the McNeil Government's failure to recognize the value of the work done by 75,000 public sector workers," concludes McFadgen.