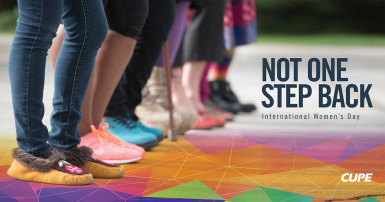 Women, feminists and gender justice activists are ramping up the battle against gender-based violence and oppression. Women and survivors of gender-based violence continue to come forward and name the harm done. And they continue to confront and transform the systems and practices that maintain that violence.
On this day, CUPE joins with them and recommits to ending all forms of violence against all women. With many of our members experiencing increasing levels of violence in the workplace, CUPE is committed to advancing a national response to violence that centres the experiences of those harmed.
With pay equity legislation in the pipelines, we call on the federal government to implement proactive pay equity legislation now – time is up and legislation is needed now!
As families continue to fall behind, unable to cover rent, the increasing costs of food, education and childcare, we remind the government that for decades, women and feminists have been calling for affordable, high-quality and accessible childcare.
We continue to demand justice for the growing numbers of missing, murdered and Indigenous women and girls and the government's failure to comply with the Canadian Human Rights Tribunal's ruling and ongoing discrimination to First Nations child welfare. Justice continues to be delayed, with lip-service from the Trudeau government on truth and reconciliation.
On March 8, CUPE joins in the global celebration of women's collective liberation and resistance. On International Women's Day (IWD) and every day, we reaffirm our commitment to all women's economic, social, political and cultural power and to building just futures, free from violence.
Take action: Not one step back
Order CUPE's IWD poster and bookmark which features the militancy and leadership of marginalized women and pays homage to their ongoing contributions. The poster shows women from different communities united and advancing together in the fight for gender justice and declares, "not one step back."
Order our new IWD bookmark here. 
Order a poster today! You can use these at union, workplace and community events, or order posters by contacting CUPE's Human Rights branch.
Take a photo of yourself with the CUPE IWD poster and bookmark and use social media to say what you want the federal government to do to advance justice and equality for women. Use the hashtag #IWD2018
Check out these additional resources:
On International Women's Day, we declare "not one step back." And we commit to regaining ground on justice for all women.
We invite you to join us at CUPE to remember and celebrate IWD with your families, your communities and your union locals. Join an IWD event happening nearby or help organize your own.
For materials, posters and publications, contact CUPE's Human Rights Branch at humanrights@cupe.ca