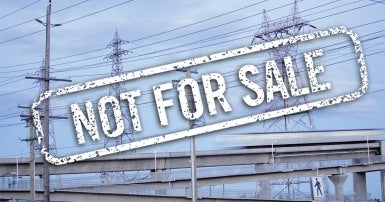 CUPE is calling on the Liberal government to scrap the privatization mandate of the Liberal government's Canada Infrastructure Bank (CIB). Instead of being driven by private for-profit investors, the bank must fundamentally transform into a source of low-cost loans that help local governments build public infrastructure. 
CUPE researchers Robert Ramsay and Mathieu Vick made the case in a presentation to the House of Commons Standing Committee on Transport, Infrastructure and Communities. The committee is studying the CIB. 
Our union has consistently called for a fully public bank ever since bank details were first unveiled in 2017, breaking a Liberal election promise to directly support municipalities – without any requirement to cut deals with corporations. 
Public banks can help keep projects affordable by lending money at lower interest rates than the private sector. Over the life of an infrastructure project, expensive private lending can double project costs.  
Privatization is risky, delays projects and drives up costs. Public loans and direct public funding (which doesn't have to be repaid) are the quickest and most cost-effective way to build infrastructure.  
A full restructuring of the CIB must also abandon privatization and give local and provincial governments a seat at the table. The law establishing the CIB bars anyone working for a federal, provincial or local government from sitting on the board. 
There's a danger the CIB model will spread rapidly. The Liberals are saying the bank should help drive our COVID-19 economic recovery. Vick outlined the destructive results of the CIB's support of investor-driven privatization projects, using the example of the bank's first project. 
The Réseau express métropolitain (REM) is a Montreal light-rail project planned and partially financed by the infrastructure arm of the Caisse de dépôt et placement du Québec (CDPQ). CDPQ manages the funds of the Quebec Pension Plan and other pensions. CDPQ has a 99-year deal to own and operate the REM. 
Vick outlined how the privatized transit project has little public control, oversight or accountability. The REM route aims to generate the biggest profits for the CDPQ, not serve transit riders. Already late and over budget, the REM will also undermine existing transit networks in the city. 
The CIB has struggled to find its feet through several rounds of leadership changes, and has been slow to deliver projects. It's time to take a step back and rebuild a different kind of bank. Focusing on public projects will boost the economy and create good jobs.  
CUPE will keep demanding a bank that supports municipalities and governments that want to build public infrastructure.