Mathieu Vick | CUPE Research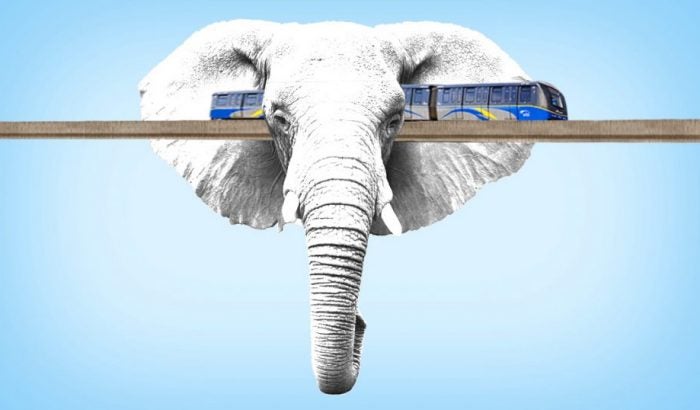 The government of Québec has just set the table for the largest privatization project in the history of the province, and a crown corporation is looking to cash in.
The Caisse de dépôt et placement du Québec, the crown corporation that manages most of Quebec's pension funds, founded CDPQ Infra, a subsidiary that is now the principal contractor building the Réseau électrique métropolitain (REM) project, an electric and automated train similar to Vancouver's SkyTrain.
A conventional public transit system is normally planned, funded, operated, maintained and owned by the public sector. Not the REM. CDPQ Infra, a profit-driven entity, will be spearheading the entire operation. CUPE believes that more investment is needed in public transit, but the obligation to generate a return will mean that the search for profit will take priority over the actual public transit needs of the Montreal metropolitan community.
Indeed, this gargantuan project will have many of the adverse consequences common with public-private partnerships. Private financing costs taxpayers far more. Incredibly, this project will be financed at an interest rate of eight per cent, which is the minimum return guaranteed for CDPQ Infra. The provincial government could secure financing for as low as three or four per cent.
Worse, the profits will be funded by government and municipal subsidies because public transit is a money-losing public service in North America, as rider fares cover only a fraction of operating costs.
A Québec research institute performed a recent study that found REM would cost municipalities and the province $500 million per year. According to the Institut de recherche en économie contemporaine (IRÉC), the added financial burden could prevent municipalities around Montreal from being able to pay for improvements to the public transit services they currently operate.
The problems with privatization are not limited to financing. In REM's case, the problems include the use of technology that is incompatible with the current system; the sale of the Mount Royal tunnel to the private sector which blocks access to suburban trains and to Via Rail's high-speed train; the acceleration of urban sprawl; and the possible dismantling of several suburban train lines in the public system.
CUPE in coalition to oppose REM privatization
Although the project has received a green light from the Québec government, CUPE will keep on fighting it. We've had some successes to celebrate. Thanks to a door-to-door campaign by bus drivers from Montreal, Laval and Longueuil, we helped get a mayor opposed to the REM elected in Lachine.
For more on CUPE's ongoing campaign efforts, visit the Trainsparence coalition at trainsparence.ca