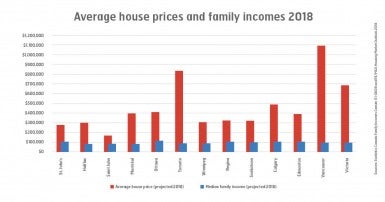 Average house prices across Canada have tripled since 2000, rising at three times the rate of average family incomes. In some cities, notably Vancouver, Victoria and Toronto, houses are already far from affordable for ordinary families, having risen to well over five times average family annual incomes.
The average price of a single detached home in the Greater Vancouver Area is expected to reach $1.1 million this year according to RE/MAX, six per cent above last year's average price and 12 times the median family income, which is expected to be about $90,000 for Vancouver this year.
The second-least affordable city in Canada is Toronto, where the average price of a single detached home is expected to reach $834,000 this year, more than nine times the projected average family income of $88,000.
The decline in interest rates down to rock-bottom levels has contributed to the exorbitant rise in house prices by making it easier to finance large purchase prices. Low interest rates have also been the only thing allowing monthly mortgage costs to be even remotely affordable for some families. But with mortgage rates rising, housing costs are going to become even less affordable for many families. Increasing the supply of affordable housing, stronger regulations, progressive tax measures and higher pay for workers would all help make housing more affordable.