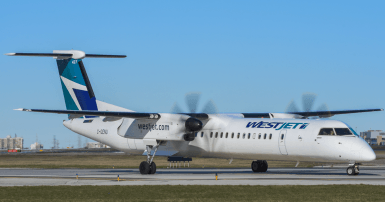 CUPE has filed an application at the Canada Industrial Relations Board to represent flight attendants at WestJet Encore.
A majority of WestJet Encore flight attendants have signed cards supporting unionization with CUPE, after citing the need for better schedules and better opportunities for career advancement among their reasons for seeking to unionize. CUPE is thrilled to get to work improving the lives of Encore staff.
"CUPE has industry-leading experience and expertise in improving the working conditions and the lives of our flight attendant members," said CUPE National President Mark Hancock. "We look forward to adding Encore flight attendants to our airline family."
Flight attendants have a tough job ensuring the safety of their passengers at 20,000 feet, along with challenging working conditions and often unpredictable schedules. But being part of a union makes a world of difference, as flight attendants at WestJet mainline can already attest. "Most definitely, my life is a lot better after joining CUPE," said Kruti Sutaria, who is now the secretary-treasurer of CUPE Local 4070, representing WestJet mainline flight attendants.
In July 2018, CUPE was certified to represent roughly 3,000 flight attendants at WestJet's mainline carrier. CUPE is Canada's flight attendant union, representing 15,000 flight attendants at ten different airlines nationwide.
Photo credit: Martin Kulcsar This work is licensed under a Creative Commons Attribution-Share Alike 4.0 International License.