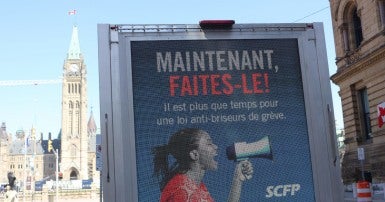 CUPE Quebec's communications sector council (CPSC) has embarked on a publicity campaign in Ottawa at the end of this session of Parliament to remind MPs that anti-scab legislation is long overdue.
"To restore the balance between the employer and the union at the bargaining table, anti-scab legislation is needed as soon as possible. Workers deserve more respect. That's the message we'll be bringing to our federally elected officials in the coming weeks," said Tulsa Valin-Landry, president of CPSC.
Back in March 2022 when a confidence-and-supply agreement was reached with the NDP, the federal government pledged to table a bill prohibiting recourse to scabs during strikes or lockouts. This bill is to be tabled by the end of the year, but CPSC believes that quicker action is required. Numerous conflicts drag on, because the employer in each instance uses replacement workers.  This is particularly the case at the Port of Quebec. Longshore workers have been locked out for more than eight months, and the employer is using scabs to get their work done.
"When an employer uses scabs, this erodes the workers' right to equitable negotiations by taking away their ability to halt work, which gives federally regulated employers an unfair advantage. Legislative mechanisms are needed now to turn the tide!  Quebec passed anti-scab legislation in 1977, and it's high time that federal workers enjoy the protection afforded them by such legislation," pointed out Valin-Landry.