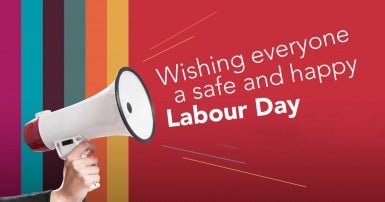 As summer draws to an end, on behalf of all 715,000 CUPE members nationwide, we want to wish a safe and restorative Labour Day to our members, activists, staff, and retirees.
Labour Day marks a moment of reflection on the calendar – an opportunity for us to take stock of our wins, the lessons learned along the way, and the challenges on the road ahead.
It has been a tumultuous year for our union and our movement. Coming off the inspiring and historic struggle by Ontario education workers against the Ford Conservative government, workers across Canada are rising up and demanding better for their families. CUPE, and our movement as a whole, has served notice to governments across the country that when they try to run roughshod over our rights, they're in for a rude awakening.
We've shown that our members mean business. From Mount Pearl, NL to the Lower Mainland of British Columbia and everywhere in between, our members courageously walked the picket lines in their fight for respect, better working conditions, and significant wage increases to fight the cost-of-living crisis. And it isn't just CUPE members. Grocery workers in Toronto and port workers in Vancouver and so many more are boldly taking a stand – at the bargaining table and on the picket lines – and together, we're winning.
Workers across Canada are reclaiming their voice and their power, and we're standing up to governments and employers who are trying to erode our purchasing power and strip away our bargaining rights. We're fighting back against Conservative governments trying to privatize our health care system. And we're fighting back against leaders like Pierre Poilievre who peddle hate and division in their pursuit of political power.
Over the past year, we've achieved so much – but we know that we will face many new struggles in the months to come.
This year marks the 60th anniversary of CUPE's founding at a convention hall in Winnipeg in 1963. We're so proud to commemorate this landmark occasion and reflect on our incredible legacy of fighting for workers' rights and a better world. As we celebrate Labour Day and CUPE's 60th anniversary, let's continue building and exercising worker power and solidarity as we face the challenges ahead.