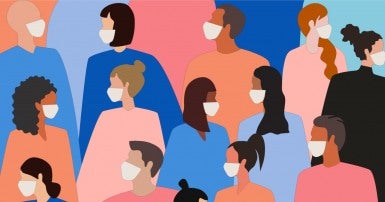 Health care authorities around the world are carefully tracking data about the spread of COVID-19, especially the location of outbreaks, the age of patients affected, and the way that patients came into contact with the virus. This data gives us valuable information about how to stop the virus from spreading further. Policy makers can clearly see trends, and direct resources to where they are needed – whether that be providing additional space for shelters, additional staff and PPE for long-term care facilities, identifying high risk activities, or quarantining affected workplaces.
Health care experts have long pointed out that different groups of people face different health risks and different barriers to accessing care. Precarious workers, disproportionately Black, Indigenous and racialized, are less likely to have sick leave and have fewer options when employers ignore health and safety standards. Living in crowded or inadequate housing makes effective quarantining almost impossible. Households that were financially insecure before the crisis will be less able to cope with job loss or illness and face more pressure to return to unsafe workplaces.
Early data from other nations shows a sharp disparity in COVID-19 infection rates among racialized people. Despite this, Canada has been slow to recognize the need to collect race-based data on the spread of COVID-19. With no national mandate to track the impact on Indigenous, Black, and racialized communities, the data that we do have is incomplete.
Indigenous peoples
Indigenous peoples were disproportionately impacted by the H1N1 outbreak in 2009. Even though Indigenous peoples represent only 4.3 per cent of the population in Canada, 25 per cent of critically ill patients were Indigenous. This data prompted early calls for action to prevent a repeat tragedy with COVID-19.
Statistics Canada has used pre-COVID data to show there are higher COVID-19 risk factors for both urban and rural Indigenous peoples. For example, many remote Inuit and First Nation communities have limited access to health care professionals. First Nations and Metis people living in urban areas are far less likely than other Canadians to have a family doctor. And Indigenous peoples are more likely to live in inadequate housing. One in five live in a house that doesn't have enough room, and one in four live in a house that requires major repairs.
Most provinces started tracking Indigenous identity among COVID-19 patients earlier than other socio-economic data, and some are actively working with Indigenous leaders and communities to make sure the information is used appropriately.
Race-based data
Toronto's health agency started collecting data on ethno-racial identity on May 20, three months after their first case of COVID-19. They have found that Black and racialized residents, who are only half the population, account for 83 per cent of cases. Maps of earlier Toronto health agency data show that there has been a higher proportion of cases in lower income racialized neighbourhoods.
Provincial data gathering and publishing policies vary. The province of Quebec is working with Montreal public health authorities to study race-based data on the risks of contracting COVID-19. The province of Ontario began asking people who tested positive for COVID-19 about race, income, household size and language in June, though no data has been released publicly yet. The British Columbia government is also working to collect better race-based health data and is developing a plan for the fall, working with the Human Rights Commissioner and the Information and Privacy Commissioner. There are active campaigns in other provinces to convince authorities of the public health benefits of collecting and analyzing this data for COVID-19 patients.
We already have information that can help direct our public health response. For example, exposure to COVID-19 depends partly on the type of work that workers and their family members do. Several high-profile outbreaks were connected to unsafe workplaces, such as food processing plants and long-term care facilities, where workers did not get adequate protective equipment.
Because of labour market discrimination, racialized workers are disproportionately represented in some of these high-risk jobs. For example, Statistics Canada found that Black and Filipino workers are disproportionately employed in the health care field and, on average, earn significantly less than their white co-workers.
We know from the census that white workers are disproportionately represented in professional and managerial employment. These workers were able to quickly transition to working from home and so faced a much lower infection rate.
Shining a light on the effects of discrimination
The Canadian Institute for Health Information is an independent not-for-profit organization that collects health data across the country. The organization has recently proposed standards for race-based and Indigenous identity data in health, which could be used to help identify and address health inequities that we already know exist in our communities. The federal government should work with the provinces to ensure that these standards are put in place. This will help us shine a light on the effects of discrimination and make the need for action clear.