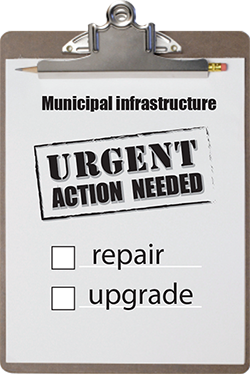 One-third of Canada's existing municipal infrastructure is in need of urgent repairs and upgrades, according to the annual Canadian Infrastructure Report Card. 
The survey looked at the state of water, transportation, recreation and transit infrastructure, and found one third of these systems were in very poor, poor or fair condition. 
The total value of these core municipal assets is $1.1 trillion, or about $80,000 per household.
Local infrastructure is part of our common wealth, but unless it is repaired soon it could rapidly deteriorate and depreciate in value and then cost far more to fix.
Most in need of repair now are public buildings, sports and recreation facilities, roads and public transit systems.