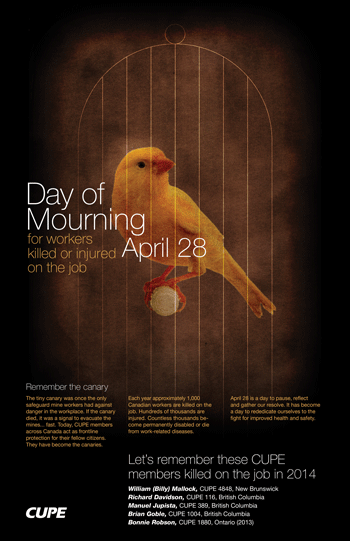 Every year, around the world, unions mark the International Day of Mourning on April 28 to honour workers killed or injured on the job. It's an important date for the labour movement: we remember those workers we've lost, and fight for better standards for today's workers.
In 2014, six CUPE members lost their lives, and just four months into 2015 already five CUPE members have died on the job.
"It's deeply troubling, the number of deaths we've seen recently," said CUPE National President Paul Moist. "Our hearts go out to the families and the friends and colleagues of these workers."
In seven of the 11 incidents listed, working alone was a contributing hazard. Working alone means a worker does not receive immediate assistance if they're incapacitated in some way, leaving the worker susceptible to graver injury. CUPE recently conducted a survey showing that 94 per cent of members who work alone face at least one other hazard during that period.
"Working alone is a serious problem in our workplaces. It's a hazard that's only getting worse with cutbacks and an aging workforce," said Moist. "Employers need to acknowledge the risk our members face, and make efforts to reduce the hazard."
Sadly, the health and safety challenges workers face often go beyond the workplace. The federal government and many provincial governments continue to undermine the health and safety of workers by weakening occupational health and safety laws. For instance, the federal government has modified the definition of danger for federally regulated workers. The definition now specifies that hazards must be "an imminent or serious threat" implying that workers are not entitled to protection from conditions that could cause them illness in the future.
CUPE opposes the change. If you believe you're in danger at work, for any reason, you still have the right to refuse unsafe work.
It's been more than 30 years since CUPE's National Health and Safety Committee first proposed the idea for the Day of Mourning. Since then it has become an international event, marked by workers, governments and other organizations the world over. Unfortunately, it seems the need to raise awareness about workplace health and safety is as important as ever.
For more health and safety information: