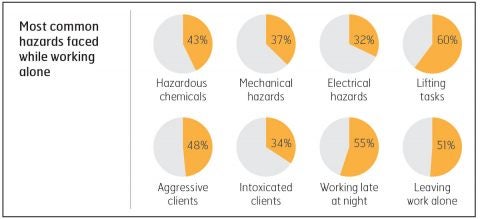 Troy Winters | CUPE Health & Safety
The results are in, and they're concerning. Of all CUPE members surveyed who indicated they work alone, 94 per cent said they face at least one other hazard during that period. The most common additional hazards identified were lifting or carrying heavy objects/people, leaving work alone at the end of a late shift, working late at night, and aggressive or violent clients/patients.
The results are based on responses from over 2,000 CUPE members surveyed online and with paper surveys between October 15, 2013 and March 1, 2014. Of the people who filled out the survey,
64 per cent indicated that they work alone.
The survey also made it clear that employers need to do more to educate and protect workers. Less than half (47%) of the respondents who work alone reported knowing whether their employer had a working alone policy or not, and 27 per cent indicated that their employer does not have a policy. Of the remaining 20 per cent who confirmed their employer has a policy, less than half (43%) had received training for working alone.
Working alone often means help is not readily available, and the survey results confirmed it, as almost half of the respondents (48.5%) who work alone stated that they would have to wait at least 2 hours before someone noticed they were missing in case of a serious injury. More than 16 per cent said they would have to wait eight hours or more.
The survey results will inform future working alone resources from CUPE's Health and Safety Branch, including a detailed report of the results and some best practices for contract language related to working alone.
If working alone is a concern in your workplace, check out the working alone fact sheet or contact the health and safety branch for a copy of our new working alone guidelines at health_safety@cupe.ca .