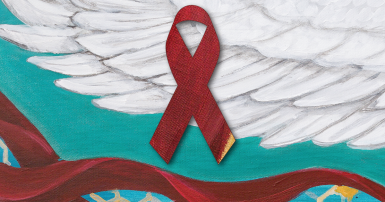 On December 1, World AIDS Day, CUPE renews its commitment to breaking down barriers for people with AIDS and HIV. Our union continues to support the global AIDS movement that struggles against discrimination and fights for improvements in public treatment programs.
The impacts of this ongoing epidemic are not shared equally. Poverty, violence, and other forms of marginalization mean women, people with disabilities, and racialized and Indigenous peoples have higher rates of AIDS and HIV. These people face greater barriers to treatment and to vital services such as housing. This inequality is unacceptable.
Thirty years ago, our union took a stand against the stigma and discrimination faced by people with AIDS and HIV. CUPE Local 4014 supported a grievance when a member was pulled from his job as a flight attendant because he had AIDS. Hans Olav Prins was taken off his job at Pacific Western Airlines (the airline became Canadian Airlines in 1987, which in turn was taken over by Air Canada in 2001), despite two company doctors saying he was fit to fly.
Brother Prins died before an arbitration decision that set a precedent protecting workers from discrimination because they have AIDS. The memory of his bravery and determination has inspired our union to keep up the fight against the stigma faced by workers with AIDS and HIV.
Since then, CUPE has developed education materials and workshops for members, challenged discrimination in health plans, and tackled criminalization and racism faced by people with AIDS and HIV.
On World AIDS Day, CUPE encourages its members to learn more about the AIDS movement, and to continue this important work in their locals.
Take action: