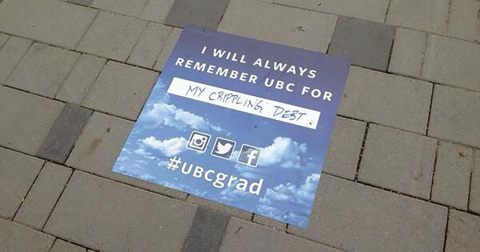 Margot Young | Research
At graduations across Canada, this twitter message from a UBC Student using the UBC hashtag # I will always remember UBC for… reflects the truth for so many new graduates this year. The UBC student tweeted I will always remember UBC for my crippling debt.
The average Canadian student debt is estimated to be around  $27,000. "High tuition fees and the prevalence of loan-based student financial assistance have pushed student debt in Canada to historic levels," said Jessica McCormick from the Canadian Federation of Students. "From skyrocketing tuition fees and high student debt to high youth unemployment and a shrinking middle class, this may very well be the first generation that's worse off than the one that came before it."
Data assembled by the Canadian Centre for Policy Alternatives (CCPA), demonstrates that students have to work longer to pay for university than they did a generation ago, but it varies greatly by province.
The most affordable place to study is Newfoundland and Labrador where a student only has to work about a week more at minimum-wage than they would have in 1975 to pay for average full-time undergraduate university tuition fees. Ontario has become the most expensive place to study, and is home to the largest number of university  undergrads. It makes at least twice the hours of minimum-wage work to cover tuition compared to a generation ago.
"What this indicates is a shifting of priorities: as public money is withdrawn, and public support is reallocated to after-the-fact assistance (through tax credits or loans  forgiveness), the cost of higher education is being downloaded onto students and their families," said Erika Shaker from the CCPA, "yet, international research conclusively demonstrates that we all benefit exponentially from living in a well educated society. As a result we should share the costs by  making the post-secondary system more and not less equitable, in addition to making it publicly accountable, high quality, and affordable." 
Funding education through student debt is an unfair model. Requiring low-and middle- income students to finance their education through debt, results in students with loans paying more for education than students who have the resources to pay the full post of their education up-front. Students who can pay their fees up-front only pay the sticker price, while students who take on debt must pay both the fees and the accumulated interest on their loans. 
"What today's students are looking for isn't a handout or a free ride," said McCormick. What this generation wants and needs is the same support and tools for success that were enjoyed by youth of the previous generation. If we can't fulfill even these most basic promises then we have truly failed, not just this generation, but generations to come."
CUPE is committed to establishing national criteria and conditions for the funding of post-secondary education programs. We want to ensure the quality and accessibility to public post-secondary education.
Read about CUPE's positions in our booklet, Post-Secondary Education – our Choices, our Future.