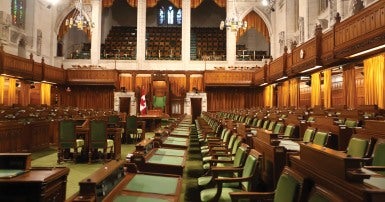 Hugh Pouliot | CUPE Communications
Voters have spoken: in electing another minority Parliament, they have rejected the backward-looking politics of the Conservatives, and they have voted to keep the Liberals on a short leash.
In terms of seat counts, this "new" minority Parliament will be a near-exact mirror image of the result in 2019. Voters have denied Justin Trudeau the majority he was after and sent a strong contingent of New Democrats to the House of Commons to hold the Trudeau government to their progressive promises. 
"While the electoral map might look pretty similar to 2019, a lot has changed in our country and our world since then," said CUPE National President, Mark Hancock. "This election showed us a clear majority of voters want progressive action on climate and how we care for the vulnerable and underprivileged in our society."
In Canada's House of Commons, 170 votes are needed for a majority to pass legislation. The Liberals, with 159 seats, and the NDP, with 25 seats, have the votes needed for a strong parliamentary majority on issues like climate, reconciliation, and child care.
"The election is over, but the fight doesn't end here," said CUPE National Secretary-Treasurer, Charles Fleury. "We know we can count on the NDP to be a strong voice for workers and everyday people in the House of Commons."
So, where could we see the NDP play an influential role in the upcoming minority Parliament? First, we know the NDP will ensure the Liberals follow through on their promise of a national affordable child care plan. In the last minority Parliament, the NDP also made amendments to significantly improve the Liberals' climate change accountability legislation. We can expect the NDP to continue exerting its influence and ensuring the Trudeau government follows through on promises that were shared priorities in the NDP platform.
We could also see the NDP force the Liberals' hands on some of the NDP's priorities, like a wealth tax of 1 per cent on family assets valued over $20 million. The NDP could put pharmacare back on the table, after the Liberals left a national pharmacare program out of their platform altogether during the campaign.
But let's also remember, the Conservative Party – with 119 seats – will always be there to help indulge the Liberals' worst instincts. These two old-line parties have a long history of teaming up and letting corporations off the hook, failing Indigenous peoples, cutting health care transfers, and more. 
The NDP has an important role to play in steering the course of this new Parliament towards giving everyday people the supports they need through the pandemic and the recovery that will follow.