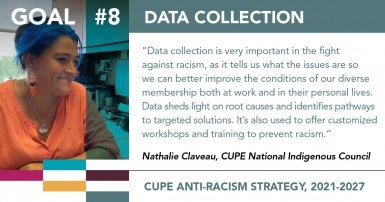 "Data collection is very important in the fight against racism, as it tells us what the issues are so we can better improve the conditions of our diverse membership both at work and in their personal lives. Data sheds light on root causes and identifies pathways to targeted solutions. It's also used to offer customized workshops and training to prevent racism." - Nathalie Claveau, CUPE National Indigenous Council
You can't manage what you don't measure, as the old saying goes.
In other words, to be successful in fighting racism in the workplace, union and our communities, we need to track some hard numbers to know whether we are making progress on issues that affect our members, and disproportionately affect Black, Indigenous, and racialized workers.
That's why the 8th goal of CUPE's new Anti-Racism Strategy is to collect data on demographics, work precarity, and union involvement.
The Strategy calls on CUPE to regularly collect data on our membership using appropriate and accessible means. It also calls on us to break down race-based data by racial groups where possible.
Having better data on precarious work and employment equity issues helps us understand the nature and the scale of these problems - and it puts us on course to finding solutions. Better data can inform the union's priorities for creating an anti-racist labour movement, and fighting for barrier-free policies in the workplace.
To achieve this goal, CUPE will support locals to survey their membership, work with employers to collect demographic data, and fight for the changes needed to defeat racism in the workplace and union.
Between now and our National Convention later this month, ask how your Local can better collect and use data to make progress on equity issues and fight racism in your workplace.
This is the eighth in a series of ten features profiling the goals of CUPE's Anti-Racism Strategy. Read the full series here.