A highlight of CUPE's 2015 equality work was our National Human Rights Conference, which brought more than 500 labour and social activists to Winnipeg in February. The conference highlighted how members can bring about change and build worker power by advancing equality in our union, our workplaces, and our communities.
Conference participants learned about CUPE's Equality History Project and added their stories. The full digital timeline of our equality history describes more than 200 milestones since CUPE's founding in 1963. It was launched at our national convention. The timeline was profiled in the convention Village, along with a popular 'equality warrior' photo booth.
Our work fighting HIV/AIDS moved forward, building on CUPE's new policy. CUPE resources for members now include a policy booklet, poster, health and safety fact sheet, and bargaining checklist.

Our support of Indigenous organizations, including the Native Women's Association of Canada (NWAC) and Families of Sisters in Spirit, continues. In December, we welcomed the announcement of a long-overdue national public inquiry into murdered and missing Indigenous women and girls.
CUPE's solidarity on Indigenous water issues also continued, with CUPE Manitoba joining the call to fund the Shoal Lake 40 First Nation "Freedom Road." The road will ensure the community that hosts Winnipeg's water supply has access to clean water and services. In late December, all three levels of government confirmed funding to build the road. The community has been without clean water for nearly two decades.
We can bring about change and build worker power by advancing equality. 
CUPE stood together with Indigenous peoples in many other ways, including attending the closing ceremonies of the Truth and Reconciliation Commission in June, and the release of its final report in December.
At our national convention, commission chair Justice Murray Sinclair delivered a powerful message about the devastating legacy of Canada's residential schools system for survivors, their families, Indigenous nations and Canada. Our union is now working on implementing the commission's calls to action, including educating CUPE members on the history and legacy of residential schools.

A highlight of our work on gender-based violence this year was the development of a new bargaining guide about domestic violence in the workplace. The guide builds on research on domestic violence at work conducted by the University of Western Ontario and the CLC, which CUPE supported. The Manitoba government also drew from this research in its recent pledge to provide paid leave for workers who are victims of domestic violence.
CUPE also expanded our Bargaining Equality resources, featuring a guide on stopping harassment in the workplace, information on LGBTTI rights and the duty to accommodate, as well as a checklist and sample language on discrimination.
CUPE supported Canadian events for this year's World March of Women, held on October 17. The mobilization built to a march in Trois-Rivières. Key demands included an end to austerity, and a national inquiry into murdered and missing Indigenous women and girls. The National Women's Committee collected signatures on fabric squares as messages of solidarity with the Quebec feminists leading the march.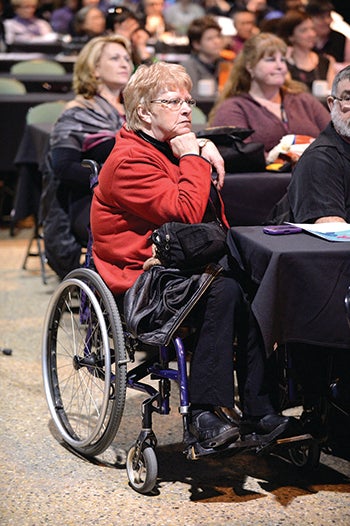 In 2015 CUPE also advocated for justice and equality by:
Speaking out on the issue of racial profiling
Supporting the new Coalition for Migrant Worker Rights – the first of its kind in the country, as well as more than a dozen other community-based organizations
Helping delegations from the Algonquins of Barriere Lake and the NWAC attend key United Nations meetings
Finally, CUPE was proud to see the Canadian Labour Congress honour CUPE 1770 member Ann Ramsay's disability rights activism with the 2015 Carol McGregor Award. Ramsay serves on the PEI Division Equality Committee, CUPE's National Persons with Disabilities Committee and the CLC's Disability Rights Working Group. Ramsay also received CUPE's National Award for Disability Rights Activism at this year's national convention.