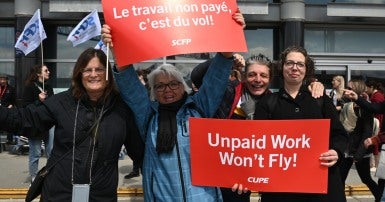 The federal government says it will turn a blind eye to the issue of unpaid work in the airline sector, where flight attendants work an average of 35 hours unpaid every month, according to a petition response tabled in the House of Commons on Friday by Labour Minister Seamus O'Regan.
The petition, submitted by CUPE Airline Division President Wesley Lesosky and signed by over 17,000 Canadians, called on the federal government to close loopholes that allow big airlines to force flight attendants to perform hours of unpaid work every day. O'Regan's office issued its official response to the petition on November 3, declaring it would be keeping those loopholes open.
"These are not the words of a minister who cares about workers being exploited by billion-dollar companies," said Lesosky. "But now we know whose side Minister O'Regan and Prime Minister Trudeau are really on."
CUPE's Airline Division launched the Unpaid Work Won't Fly campaign in April 2023 to draw attention to the issue of mandatory unpaid work within the airline industry, and filed the petition to the House of Commons as part of its campaign.
Lesosky thanked and acknowledged the thousands of CUPE members and citizens across Canada who signed the petition. "Our 18,500 members are engaged and determined, and we will not accept this reality going forward. We never expected this to be an easy fight, but we know this is just the first of many steps, and we know there's light at the end of the tunnel. We're going to end this abusive practice with or without the federal government's help."
CUPE will be filing complaints through the Canada Industrial Relations Board (CIRB). Lesosky also acknowledged that the federal government's refusal to act and end this injustice only increases the possibility of job action during future rounds of bargaining.
"Make no mistake: the federal government has chosen its side and failed to address this critical issue, leaving the door open to potential job action in the future which may have a negative impact on the public," said Lesosky. "We hope the government takes the same hands-off approach in the future if this comes to pass during negotiations at the bargaining table."