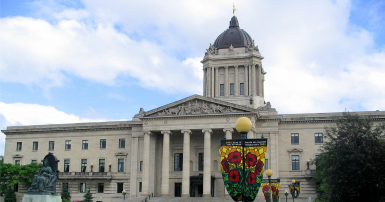 CUPE Manitoba President, Gina McKay offers the following response to today's Manitoba Throne Speech:
The provincial Conservative government's wage mandate continues to affect thousands of Manitoba workers. Premier Stefanson must withdraw this mandate completely, and make it clear to all public sector employers that they are not bound to this mandate. 
Custodians and cleaners at the Rolling River School Division have been on strike for four weeks, in part due to the provincial government's imposition of this wage mandate, which is significantly impacting negotiations.
Premier Stefanson needs to promise and guarantee to workers that no health care worker will be left behind. Health care support workers have been without a contract since 2017, and the Premier may have 18,000 health care support workers on strike in 2022 if they are not prioritized.
The government also has a real chance to improve long-term care in Manitoba by legislating minimum staffing requirements for care homes and long-term care facilities.

By legislating minimum staffing levels we can ensure care homes and long-term care facilities never again go through what they did before, especially during the pandemic, and that seniors and elders get the level of care they deserve.
We believe the provincial government's favouring of an operate-maintain public private partnership (P3) for Winnipeg's wastewater treatment plant upgrades is the wrong choice, and we will work with our municipal partners to oppose it at every level.
As Canada's largest union, CUPE has a national mandate to oppose P3s, and we will work to defend and strengthen public services on all accounts. Public services protect communities and workers and ensure equitable access to services for Manitobans.