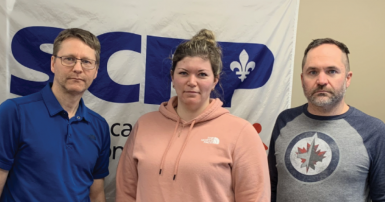 CUPE, who represents about sixty white-collar workers in the Town of Sept-Îles on Quebec's North Shore, has been called on by the employer to establish essential services at a time when the parties are negotiating a new collective agreement.
The talks began in September 2022, and in an unusual twist, the town this week proposed that negotiations begin on essential services.
"It would seem that the vote to strike, which was called by members, has prompted some insecurity on the part of the employer," said Mathieu Gingras, President of CUPE 1930.
The collective agreement expired on September 30, 2022. The major sticking point is wage increases in the wake of spiking inflation.
"The cost of living has exploded, which has not only affected suppliers and entrepreneurs dealing with the town, but also all municipal staff," says CUPE union representative Charlaine Sirois.
In early February, both the employer and union applied for mediation and conciliation to the Ministry of Labour to resolve the impasse currently affecting negotiations. About ten bargain meetings have been held thus far.