Jordana Feist | CUPE Research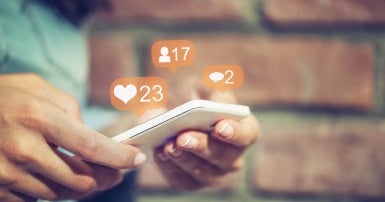 After several years of using social media as a member communications tool, CUPE Local 454, municipal workers in Delta, BC, thought they might try something different.
"When we looked at who was attending membership meetings, asking questions online and generally participating in the local, we noticed that we were missing huge swathes of our membership," says local President John Gibson.
The local wanted to make sure that the information about bargaining was more accessible to the membership. Plus, they wanted to find ways to reach the entire membership, including those who were employed precariously and those with literacy challenges and linguistic barriers.
John says the idea to use Facebook Live to record a video bulletin, instead of relying on written bulletins, happened during a bargaining committee meeting.
"We went out to the front lobby of the office and used a smartphone to record me delivering the bulletin," he says. "It was a bit terrifying, but it was also raw and honest and mostly unscripted."
The video had 400 views that first week and most of the comments were positive. At site visits the following week, John heard directly from members who had never spoken before. They mentioned the video and thanked the bargaining committee for spreading the information in an accessible manner. Many wanted to know when the next video was coming out. Nobody commented on any of the nervous stumbles that John had made speaking on Facebook Live for the first time. The experiment was a success.
The employer was watching, too – and reading the comments. Everything was in full view – the level of member support, their questions, and the number of people engaging with the video. The employer could see that the local was giving factual information to CUPE members about bargaining and it could read the responses to that information.
According to John, this transparency gave the local additional power at the bargaining table. The employer knew the membership was fully behind the bargaining committee. They could see the members supported their demands, including provisions the committee thought they wouldn't make headway on.
After bargaining, the local has continued to use Facebook Live as a tool for engaging with their members. The updates include a monthly summary of the membership meeting and union education videos. The local's first educational segment was on GPS Surveillance. It was so useful that the City of Delta's human resources department shared it with their own staff. That video alone has been viewed more than 2,300 times.
The use of the live videos has also generated a regular feedback device where members watch and comment. This gives the local much greater awareness about what is going on with the members and how they are feeling about issues.
Connect with your members
Work with your

CUPE

staff and communications representatives to explore new ways to connect with your members.
Find CUPE 454 Delta Public Employees on Facebook and on Twitter.