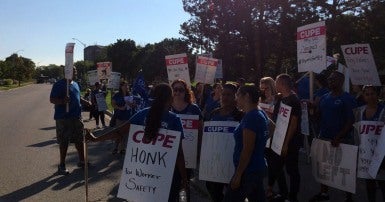 At 7:00 a.m. Monday morning, striking frontline, administrative and support staff, members of CUPE 4914 established picket lines around the headquarters of the Children's Aid Society of the Region of Peel (Peel CAS).
"Our spirits are high, our resolve is strong, because we are united," Sonia Yung, President of CUPE 4914 said as picketers began stopping traffic heading into and out of the Peel CAS offices. Picketers are stopping motorists entering and leaving the office for a few minutes, and providing information regarding the strike before allowing them in.
CUPE 4914 began a legal strike at 12:01 a.m. on Sunday, September 18, after Peel CAS presented what it characterized as its 'final offer.' The offer, which failed to address several key issues of importance to the members of CUPE 4914, was unanimously rejected by the union's bargaining committee.
The picket lines are also receiving support from other labour and community groups from Peel Region and the Greater Toronto Area.
"We have been absolutely overwhelmed by the support and solidarity we are receiving," said Yung, who added that the union is ready to resume bargaining.
"The only way this strike will be resolved is through negotiation. Unfortunately, Peel CAS hasn't expressed an interest in returning to the table," she said.