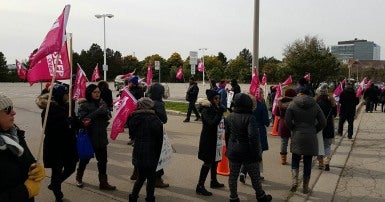 Once again, efforts to resolve a six-week long strike by 435 frontline, administrative and support workers at the Children's Aid Society of the Region of Peel (Peel CAS) have fallen apart after management walked away from the table.
Last night, negotiators for CUPE 4914 presented an offer of settlement which President Sonia Yung called "fair, reasonable and affordable."­
"This is not only incredibly frustrating for our members, it is heartbreaking for the families that depend on our members to provide the support they need. Since the strike began, Peel CAS has not been providing the level of support needed in this community," said Yung.
Members of CUPE 4914 began strike action on September 18. The two sides have been unable to agree on contract language surrounding workload management and job evaluations.
"We had hoped there would be another party across the bargaining table that was ready and willing to be creative and put Peel families first. Instead, we wound up with an employer who simply walked away, again," said Yung.
She urged families who are not getting the supports they need from Peel CAS to speak out, and promised that CUPE 4914 members would also be doing so.
"We are hearing directly from the families we would normally be working with, and they are not getting the supports they need. We are deeply concerned that, if this goes on any longer, someone may slip through the cracks with tragic consequences," said Yung.
She added that CUPE 4914's bargaining committee remains ready to resume bargaining "at any time."