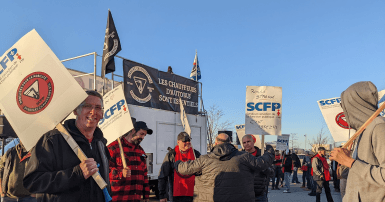 The union representing Société de transport de Laval (STL) drivers and several allies demonstrated in front of Laval City Hall last night to demand that the mayor and city council provide STL with the necessary mandates to get negotiations back on the rails and come up with a satisfactory agreement for the employees affected.
"Elected officials must show they really believe in the importance of public transit in Laval. This mobilization of drivers is intended to ensure sustainable public transit service in our municipality. Investing in public transit also means investing in employees.," said Patrick Lafleur, president of CUPE 5959.
Unfortunately, a recent CROP survey in which 473 of the 625 STL bus drivers participated uncovered some notable management deficiencies and serious problems affecting the working environment.
It was learned that 92 per cent of STL drivers made reference to a poor working environment, and 70 per cent believe that the mayor of Laval, Stéphane Boyer, has an unfavourable view of public transit. Moreover, two-thirds of the employees would not recommend STL as a good place to work.  
"We realize that ridership is down due to the pandemic, but customers have returned, and their numbers are increasing. We have to take advantage of high gas prices to stabilize the services we're offering to change people's travel habits and their thoughts about public transit," added Anthony Latour, vice-president of CUPE 5959. 
STL drivers staged several one-day strikes last year. Their collective agreement expired in August 2019, and negotiations have been dragging on ever since.