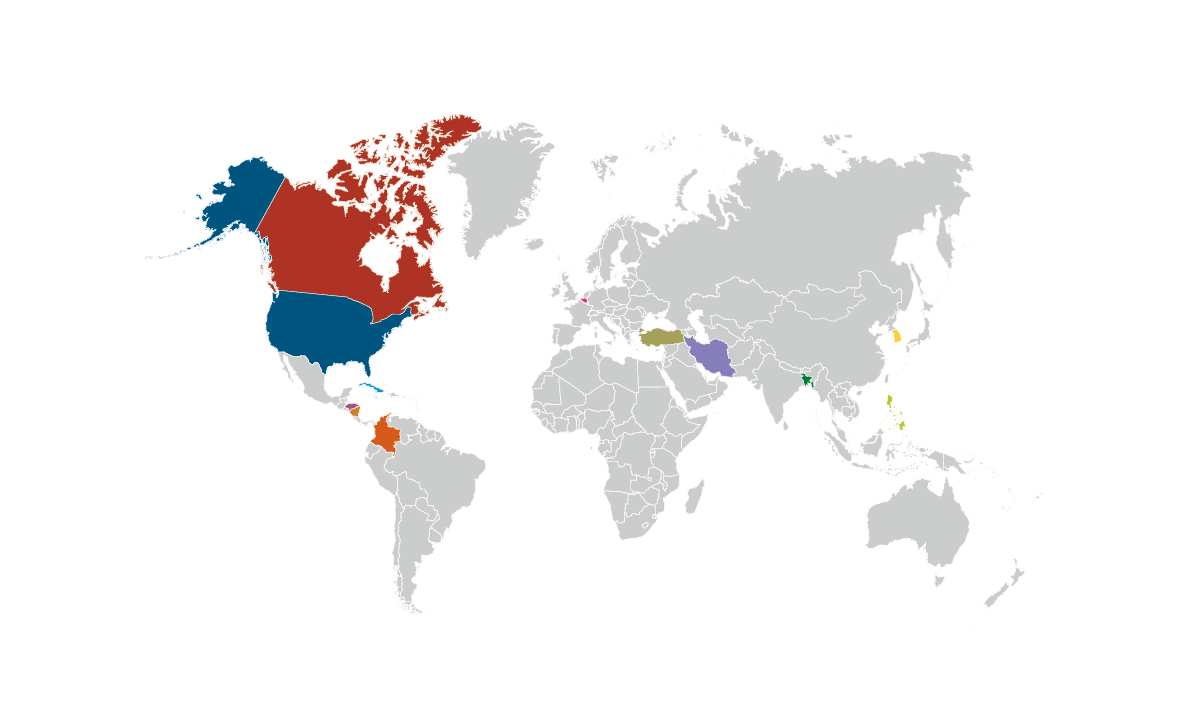 Canada
Letter to Prime Minister Trudeau expressing concern over the Safe Third Country Agreement and the Executive Order issued by United States President Donald Trump on January 27, 2017 Protecting the Nation from Terrorist Attacks by Foreign Nationals.
Letter of concern to Prime Minister Justin Trudeau regarding the violent attacks in Mexico on teachers and their unions defending their rights to proper pedagogical training and effective, formative evaluation principles.
Colombia
Project: Global defence of human rights to build policies for a transformative, holistic and participatory peace in the southwest of Colombia (NOMADESC).
Project: Community support against privatization of water (SINTRACUAVALLE).
Cuba
Project: Strengthening solidarity between Cuban Public Sector Union and CUPE (SNTAP).
Honduras
Project: Central America – Empowering women maquila workers, strengthening the Central American Network (CODEMUH).
Project: Empowering women maquila workers in occupational health and safety (CODEMUH).
Iran
Letter to Supreme Leader of the Islamic Republic, His Excellency Ayatollah Sayed 'Ali Khamenei and the President of the Republic of Iran, Hasan Rouhani, regarding the brutal flogging sentences against 17 Agh Dareh Gold Mine workers in Iran due to their protest for their right to job security and protection against layoffs.
Letter to His Excellency Supreme Leader of the Islamic Republic Ayatollah Sayed 'Ali Khamenei and President Hassan Rouhani regarding concern over Reza Shahabi returning to jail (now out on bail on a medical leave of absence) after being unjustly arrested, beaten and incarcerated for trade union activity.
Nicaragua
Project: Taking action to defend the labour and gender rights of women maquila workers (MEC).
Philippines
Letter of concern to President Rodrigo R. Duterte regarding extra-judicial violence and killings against "suspected" drug dealers.
Open letter to the Negotiating Panel of the Government of the Republic of the Philippines and the National Democratic Front of the Philippines, strongly supporting the resumption of peace talks.
Letter to the Honorable Benigno Aquino III and Ambassador Petronila P. Garcia, Ambassador of the Philippines.
Project: Worker-to-worker solidarity with the Alliance of Concerned Teachers (ACT) to build grassroots unionism in the education sector.
Project: Defending human rights in the Philippines: A worker-to-worker solidarity project with COURAGE.
Turkey
Letter of concern for reinstatement of dismissed and suspended public sector workers.
USA
Letter to Allister Smith, Executive Director of the World Bank Group for Canada, Ireland and the Caribbean raising concerns about recent water privatization initiatives.
Bangladesh
Statement sent on the third Anniversary of Rana Plaza Building Collapse Dhaka, Bangladesh, April 24, 2013. Safe working conditions.
Wallonia
Letter to Minister- President Paul Magnette commending the decision to withhold support for CETA.
Republic of Korea
Letter to Ambassador Daeshik Jo, Embassy of the Republic of Korea, regarding CUPE representatives taking part in the international trade delegation to South Korea.
Delegation led by National Secretary-Treasurer Charles Fleury met with officials at the Embassy of the Republic of Korea in Ottawa.