UN Commission on the Status of Women
Women's Economic Empowerment in the Changing World of Work was the theme of this year's 61st session of the Commission on the Status of Women (UNCSW61) in New York in March 2017. The Commission on the Status of Women is a global intergovernmental body dedicated to the promotion of gender equality and the empowerment of women.
CUPE was in New York, with trade unionists from around the world, to engage world leaders on the issues important to unions, social activists, women working in the public sector and to women in communities who rely on public services.
Yasmeen Mirza, member of the CUPE National Women's Committee, presented on the important role unions play in defending public services in a workshop organized by the CLC called Labour of Love: Unions Advancing Women's Human Rights. She began her presentation by acknowledging that public services are a source of good jobs for women, and are particularly important because women are more likely to have lower wages, and to live or retire in poverty, and they need the support of quality, affordable public services. She then spoke specifically about CUPE's struggle against privatization and contract-flipping in long-term care centres in Canada, where most workers are women, many of whom are racialized and/or immigrant women.
In their concluding statement, the global labour movement challenged themselves to: Let us not be satisfied with economic empowerment for women; let us strive instead for economic justice: women must have the autonomy to exercise real power and control over their own lives; women must be in a position to organize themselves for change, and governments and employers must respect, protect and fulfil their human right to do so.
Public Services International
CUPE is an active affiliate with Public Services International (PSI), a global trade union federation representing 20 million workers in 150 countries. In February 2017, CUPE National President Mark Hancock participated in the PSI North America Binational Meeting in Washington, D.C. Given the recent election of Donald Trump, this was an important opportunity for CUPE to express our solidarity with our sisters and brothers in the US and to determine how we can best support them to fight back against the anti-worker legislation that is being introduced. The meeting focused attention on preparations for the PSI World Congress taking place in November 2017.
CUPE staff also participated in sector-based PSI meetings in 2016, including the PSI Global Local and Regional Government Network meeting in Brussels in September 2016, and the Education Support and Cultural Workers' Network meeting in London in December 2016.
Trade and Investment
Prime Minister Justin Trudeau, former US President Barack Obama and Mexican President Enrique Peña Nieto met in Ottawa in June 2016 in what was popularly called the "Three Amigos Summit". Labour and civil society mobilized in opposition to the Trans-Pacific Partnership (TPP) trade agreement that loomed at the time.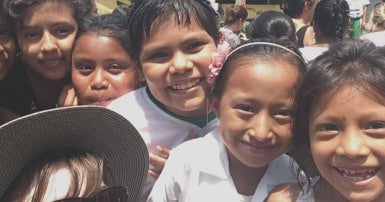 CUPE, working with Common Frontiers (CF), the Trade Justice Network (TJN), the Council of Canadians and the Réseau Québécois sur l'intégration continentale (RIQC), supported activists from the US and Mexico who came to Canada to share their respective experiences of struggle against free trade. We heard from Victor Suarez, a former member of the Mexican house of representatives and a member of the group Mexico Better Off Without the TPP, as well as Arthur Stamoulis from the US-based Citizens Trade Campaign.
Of particular relevance were the experiences Suarez shared about NAFTA's devastating impact on Mexican workers and the country's economy, as well as the rise of human rights violations. A major consequence of free trade has been growing food insecurity, leading to massive poverty for small-scale farmers, and waves of migration.
Following the election of US President Donald Trump, the TPP is no longer the threat it once was. The US has left the TPP negotiations but has certainly not abandoned their commitment to free trade. They are now floating the idea of renegotiating NAFTA, which would be in the interest of the US-based corporate sector.
CUPE is clear that Canada must go into any NAFTA renegotiation with a strategy for creating good jobs; manufacturing and services jobs with decent wages, pensions and benefits. The renegotiation must include the protection of universal and accessible public services, and public infrastructure. We must also stand in solidarity with workers and civil society in the US and Mexico.
CUPE further demands that any NAFTA renegotiation:
remove NAFTA's investor-rights protections, known as Chapter 11;
protect public services like health care, energy and public education;
remove water as a tradable good, service and investment; and
strengthen labour and environmental protections.
Victor Suarez said every one of the 43 trade deals that have been pitched at Mexico have become a mobilizing opportunity, and have brought continental movements closer together – even in the face of growing violence and repression, and widespread human rights violations. Let us use this moment as another opportunity to build stronger ties with US and Mexican social movements fighting for a better world.