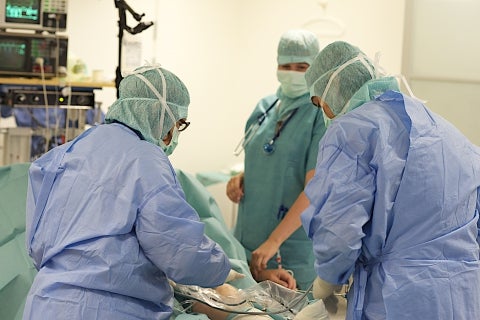 Newly-leaked documents reveal secret trade talks could transform health care from a public service to a for-profit commodity.
A leaked discussion paper presented to negotiators at the World Trade Organization promotes health "tourism" and privatization. Canada is one of 22 countries at the table negotiating the Trade in Services Agreement (TISA), along with the European Union.
The paper outlines the "huge untapped potential" for insurance and private health corporations to profit from public health care, and calls for patients to be sent abroad to countries offering lower-cost care. Public Services International has analyzed the document, leaked by the Associated Whistle-Blowing Press.
The proposal to put health care services on the global marketplace will promote privatization, drive up costs, threaten quality care and increase health insurance premiums.
"Health care is not something to be bought and sold on the market. We refuse to allow this fundamental human right to be carved up by corporations. Canada should not be part of any trade deal that threatens health care or other public services anywhere in the world," says CUPE National President Paul Moist.
"It is scandalous that proposals to dismantle the public health system are being discussed behind closed doors and the public must rely on leaks to find out what their governments are discussing on their behalf," says PSI General Secretary Rosa Pavanelli.
CUPE is calling for fair trade that works for people and the planet – not just a global corporate elite.