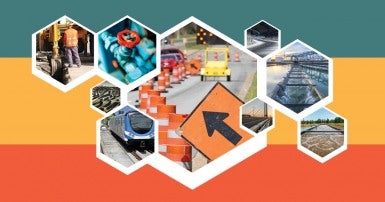 A new review of public-private partnerships (P3s) has a clear message for decision-makers in Canadian cities and towns: privatization is an expensive and risky move that hurts communities.
The findings are detailed in an updated edition of Asking the right questions: A guide for municipal officials considering P3s, released today by CUPE. The update, published eight years after CUPE first launched the popular resource, draws on new research and examples to update and expand its findings.
Asking the right questions challenges the claims made by advocates of P3s, documenting the many ways that P3s are poor public policy. "We see time and time again why P3s are expensive and unaccountable," said CUPE National President Mark Hancock. "They diminish the quality of services for the public, and they hurt jobs and our communities."
The updated guide also looks at the impact of the federal government's Canada Infrastructure Bank (CIB). The CIB brokers privatization deals, including P3s, for water, transportation, energy, transit and broadband projects.
The federal government has said the CIB will play a major role in Canada's economic recovery from the COVID-19 pandemic. The guide reinforces our union's analysis that privatization won't boost the economy.
"When we look at all the evidence that points to P3s costing the public more and delivering them less, why should our cities and towns look at anything other than public procurement?" asked CUPE National Secretary-Treasurer Charles Fleury. "It's clear that the best way forward is for municipalities to abandon P3s and focus on improving project delivery in-house."
The second edition of the guide was co-authored by the late John Loxley and his son, researcher Salim Loxley. It was completed just before Dr. Loxley, one of Canada's leading experts on P3s, died unexpectedly on July 28, 2020.