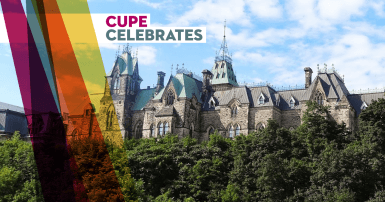 Bill C-4, which repeals two widely condemned aspects of the Harper government's anti-union agenda, was passed in the Senate Wednesday and will shortly become law. The Canadian Union of Public Employees congratulates the tireless efforts of the many activists, unions and organizations across Canada who have been fighting back against these direct attempts to weaken the labour movement and the rights of workers since 2012. Specifically, Bill C-4 repeals two Conservative private members' bills from the previous Parliament, Bills C-377 and C-525.
"We are pleased that the government as well as the NDP, the Greens and the Bloc have worked together to pull away from the Harper government's vicious attacks on labour.
The repeal of these draconian laws is an acknowledgement from the government that labour unions and the people who make up their membership are an integral part of Canada's social fabric," said CUPE National President Mark Hancock. "The fact remains that C-4 just turns back the clock to 2014, a time where there was still legislation missing to protect and strengthen Canada's workforce."
Bills C-377 and C-525 were put in place to undermine the ability of unions to advocate for workers by making it harder for workers to unionize and making draconian changes to financial disclosure laws. With these changes reversed, attention can be turned to other important files.
"It is now time for bold action and legislation from this government to protect workers across the country," said CUPE National Secretary-Treasurer Charles Fleury. "Despite progress on this front, it was a shame to watch the Liberal government vote down the NDP's proposed anti-scab legislation in 2016. There is still no federal minimum wage and nothing to address the growing precarity of work in Canada. Canadians deserve better from their federal government."