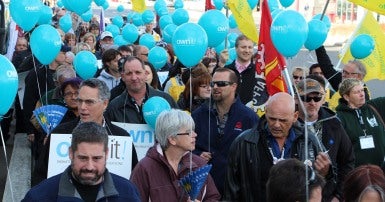 REGINA – The Own it! campaign is applauding the NDP for its commitment to keeping Saskatchewan's Crown corporations public, and is calling for the Sask Party to be upfront and transparent with its own plans for the future of our public services.
"Despite promising not to privatize our Crowns and public services when campaigning for office, Brad Wall and the Sask Party have been moving forward with an aggressive privatization agenda," said Larry Hubich, president of the Saskatchewan Federation of Labour.  "When it comes to our public services, it is clear the Sask Party is just not listening to the people across this province who value our public services."
Hubich pointed to a recent report from the Canadian Centre for Policy Alternatives called "The Wrong Track: A decade of privatization in Saskatchewan", which shows that there have been over 50 separate incidents of privatization under the Brad Wall government.
"Every family and every community in Saskatchewan benefits from public services and Crown corporations. If the Sask Party government is planning to sell off those services and put those benefits at risk, we deserve to know its plans before we head to the polls on April 4," added Hubich.
Over 20,000 Saskatchewan residents signed the Own it! petition, calling for the end of privatization of our public services and Crowns. 
Website: ownyoursaskatchewan.ca