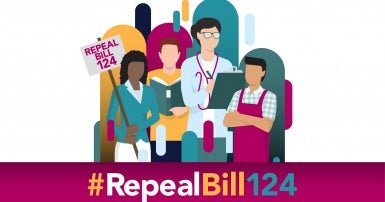 It's a milestone in the fight to repeal Bill 124, said the Canadian Union of Public Employees (CUPE) Ontario during a press conference about the start of court hearings regarding the legislation.
"We are here today to take the next step in our legal challenge against Bill 124," said Fred Hahn, President of CUPE Ontario. "We will not stop fighting back in every way possible to repeal Bill 124, both through the courts and by organizing in our communities. And we will not stop until we ensure that no government ever even considers advocating and legislating such a harmful violation of our fundamental rights again."
Hahn was joined by members of CUPE Ontario impacted by Bill 124, leaders of the Ontario Federation of Labour (OFL), the Ontario Nurses' Association (ONA), the Elementary Teachers' Federation of Ontario (ETFO), SEIU Healthcare, the Ontario Public Service Employees Union (OPSEU), and the United Steelworkers.
The union leaders highlighted the unconstitutionality of Bill 124, why they consider this legal challenge a critical plank in their efforts to repeal it, the devastating impact it has on workers, and its role in deepening and prolonging the recruitment and retainment crisis in the public sector.
"Whether I'm talking with developmental service or childcare workers, custodians or EA's, academic or support workers in Universities, or RPNs and personal support workers in hospitals, I hear a common theme," said Hahn. "It's a story of seeing wages fail to keep up with the rising cost of living. Of watching colleagues leave the profession they care about for better-paying work. Of being stretched thin, burnt out, and demoralized."

CUPE Ontario says it's hopeful that the legal challenge will reflect the growing consensus that Bill 124 is not only unconstitutional but harmful to both workers and the services Ontarians rely on.