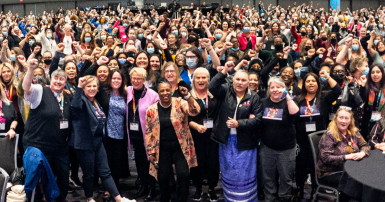 Don't mobilize. Organize!
"Reach out to people who are not already involved."

"Go deep and listen."

"Have conversations and build relationships."

This is the advice participants in the Organizing to Win panel shared with CUPE's women conference delegates on Tuesday.
The discussion featured Ontario School Board Council of Unions (OSBCU) president Laura Walton, former NDP MP for Parkdale-High Park Peggy Nash, former mayor of Peterborough Diane Therrien, as well as community organizer Marlihan Lopez.
Sherry Hillier, CUPE Newfoundland and Labrador President and CUPE General Vice-President, the East, kicked off the conversation by emphasizing the importance of progressive women being involved in politics, at all levels.
"Electing public service advocates to positions of power can help in our broader fight for equity and gender justice," said Hillier. "As union activists, we fight to make improvements at the workplace. But we also fight to improve the rights of all people."
Nash and Therrien told participants that nobody believed in them when they first set out to campaign. But they persisted, did the groundwork, and the door knocking—and they proved naysayers wrong.
Therrien was in her early 30s when she decided to run for mayor in 2018. She was told she was too young, that she didn't have enough experience. She did not believe a word of it. "I was looking at people at council, and I thought to myself: I could do this job and would be better at it," she recounted. She was elected with 60% of the vote.
She credits the work she put into having conversations with community members for her victory.

"Organizing is about relationships and trying to find common cause. I don't think there are short circuits to having these conversations and offering people the opportunity to take action," said Nash.
For Walton, the conversations that led to the education workers strike last fall were a win, because they gave people the conviction that they had power.
"Yes, we beat Ford. He deserves to be beaten more often. But the real victory was the voices that were heard and liberated. You can't put that toothpaste back in the tube", said Walton.
Building a new table
For Lopez, women need to invest in places of power. She says there won't be sustainable victories until we find ways to build relationships with groups that have been marginalized and whose voices have been silenced. That won't be easy, since most institutions still hesitate to focus on the issues affecting equity-deserving people.
Lopez just started a new collective called Harambec, which brings together Black feminists and offers resources for and by Black women and gender-expansive people.
"It's not about a having a bigger table. It's about breaking that table because it was never made for us. Until a new table is built, we need our own spaces," says Lopez. "Our liberation depends on everyone being liberated".