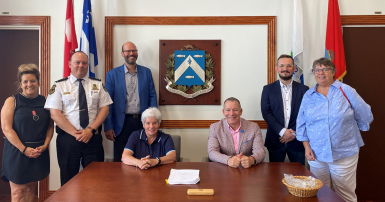 Over 60 school crossing guards with the City of Trois-Rivières have a new collective agreement that was officially signed on July 6. The two parties reached a tentative agreement on June 10, and 97% of the members ratified it at a general meeting on June 15. The five-year contract runs from January 1, 2021 to December 31, 2025.
Wage increases of 2% were negotiated for 2021 to 2023, and for 2024 and 2025, they will be at least 2% and no more than 2.5% based on the Consumer Price Index (CPI). Moreover, it was agreed that an additional hour per week would be paid to those with a weekly schedule of 10 hours, and 0.5 hours per week to those working 5 hours a week. This represents additional increases of 10% of the income of regular employees.
Other negotiated provisions include an extra statutory holiday, an additional lump sum of $100 to go toward the purchase of work clothes, faster progression up the annual leave credit scale and clarification of bumping rules for long-term replacements.
The previous collective agreement expired on December 31, 2020.
"We are satisfied with how these negotiations went and with the results we achieved. Considering all of the wage clauses, the school crossing guards in Trois-Rivieres will be getting a wage hike of more than 12% in year one and will be covered by a more complete collective agreement. This is all the more important in terms of giving them the recognition they deserve for their contribution to ensuring the safety of children in the city," explained Suzanne Pelletier, president of CUPE 5272.