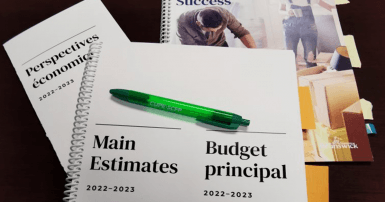 On March 22, New Brunswick Finance Minister Ernie Steeves presented the 2022-2023 provincial budget.
"This is a surplus budget, but there is good news to be found in affordable child care, thanks to the Federal program fund, health care investments, and a one-year rent cap at 3.8 per cent for residential tenants," said Stephen Drost, President of CUPE NB.
"The 2021 strike showed to all that Government had the ability to pay front-line workers and help them deal with cost-of-living increases. With the hundreds of millions still leftover in surplus, I wish Higgs would act to bring wages in long-term care up to par with those in healthcare," added Drost.
CUPE NB is concerned with the anti-Keynesian approach chosen by the provincial government.  "Instead of reinvesting the revenue generated by corporate property in improving public services and building affordable public housing, Higgs chose to give tax cuts to big property owners while the economy is in an upswing," said Drost.
"The Conservatives are cutting GNB's ability to intervene in a positive manner by $112 million (by 2023) to give tax cuts to big property owners," said Drost. This is done through the following:
Property tax cuts (15 per cent) to non-residential (industrial and commercial) property owners and other "residential" properties such as nursing homes;
Property tax cuts (50 per cent) to non-owner-occupied residential properties (such as apartment and rental buildings).
"This will increase housing speculation and construction for higher-income tenants, but it will do little where the market has failed, such as is the case with affordable housing," said Drost.
CUPE NB notes the lack of imagination and big vision shown in this budget. As we emerge out of the pandemic, New Brunswickers would greatly benefit from innovative ideas such as:
A full network of 24/7 public health clinics for non-urgent care.
Public daycare centres in public workspaces such as schools, universities, and hospitals
Electrification of the school bus fleet
Affordable public housing in rural areas
A real immigration department to structure, improve, and better coordinate support for newcomers