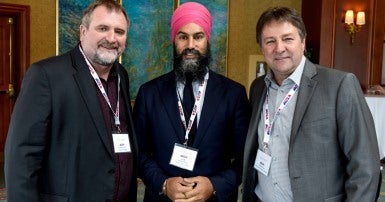 It's been less than two years since the last federal election, but so much in our world has changed because of the pandemic. COVID-19 put our politicians and our public services to the test – and we know who was there to answer the call when working people in our communities were faced with the crisis of a lifetime.
Without pressure from NDP leader Jagmeet Singh and NDP MPs in Parliament, the Liberals' response to the pandemic would have fallen short and failed millions of people. Millions of people without a paycheque or jobs to go back to. Millions of people without access to paid sick leave of any kind.
When the pandemic hit, the Liberals offered half-measures, while Jagmeet and the NDP fought for – and won – concrete solutions and progress for people. As the dust begins to settle on COVID-19, we need an even stronger NDP presence in the House of Commons to ensure we have an equitable, people-focused recovery, because we know we can't trust the Liberals to deliver by themselves.
Jagmeet and the NDP have a plan to strengthen our health care system, and invest in long-term care, pharmacare, child care, and more. They have a plan to make sure the wealthiest pay their fair share. And they have a credible plan to fight climate change. On all of these critical issues of our time, the Conservatives are stuck in the Dark Ages, and the Liberal plan is nowhere near good enough.
This election, we have an opportunity to vote for better public services and the future we want for ourselves and for future generations. We strongly encourage CUPE members and all Canadians to support Jagmeet and the NDP in this election, and mark their ballots for their local NDP candidates on September 20.
MARK HANCOCK             CHARLES FLEURY
National President          National Secretary-Treasurer