Dear Sisters, Brothers and Friends:
At the 28th National Convention in Toronto October 2 to 6 the leadership of CUPE solidified our collective commitment to CUPE's priorities over the next two years. Most significantly, delegates voted to endorse CUPE's Strategic Directions document including the pledge to fight attacks on our collective agreement rights including concessions and two-tiered contract proposals, and to fight to make gains at the bargaining tables, in our workplaces and communities.
As I announced at convention, all available campaign resources will be dedicated to supporting these fights, including campaigns in the essential services sector where locals do not have the right to strike.
Strike Pay from Day One
Delegates voted to strengthen resources for locals facing serious fights at the bargaining table by voting to eliminate the waiting period for strike pay and to begin strike pay from day one of a strike or lockout.
We allowed for this change to come into effect immediately following the vote at convention even though the Constitution says only the NEB can change the Strike Fund Regulations. At this NEB meeting, the Board will review the resulting proposed amendments to the Strike Fund Regulations.
We will carefully monitor the impact of this change, and will also continuing to monitor the impact of the 2016 change to the amounts of payments made to each of the Strike Fund and the Defence Fund to ensure long term viability of our CUPE National Strike Fund.
Staffing
As outlined in my report adopted at convention, we are experiencing staffing challenges which are not just due to the decrease in revenue following the recession of 2009. Since I was elected, in 2011, more than 230 staff have retired. 49% of our staff now have less than five years on the job as staff. CUPE is very fortunate that the vast majority of our servicing representatives are former local leaders and have decades of experience in CUPE. However, their role as staff requires additional skills. We continue to support all new staff with increased resources for staff training and mentoring.
It is now time to do a more in-depth review of the staffing challenges and how we can better support our staff. CUPE locals are changing as in many regions, smaller locals are merging into big provincial locals, resulting in more central and provincial bargaining tables. As CUPE continues to grow, newly organized members need more support. We need more coordination, more support for legal and political fights and more strategic planning.
To address these significant challenges, the NEB set up a Taskforce to review our staffing needs and how our resources are assigned. The Taskforce will be comprised of NEB members and senior staff, who will consult with a variety of locals and chartered bodies of varying size spanning different geographical areas reporting back to the June 2018 NEB meeting with a report in time for consideration during the budget deliberations next fall.
I was also very proud to announce an immediate change which would bring more stability to our staffing. As we are no longer compelled to make an additional special payment to the Employees' Pension Plan in 2018 to address solvency concerns, and with solid financial results for the first six months of 2017, at the September NEB meeting the Board voted to convert the 11 temporary positions in the General Fund to permanent positions. All positions have been posted and are being filled.
Budget 2018
Budget preparations have been in full gear since immediately following convention. After extensive consultations with NEB members and senior staff from each region of the country, as well as with Managing Directors of each National Department, the 2018 budget was developed and is presented to this NEB meeting for the Boards' approval.
Throughout the budget process, staff from our Finance and Administration and National Services Department worked diligently to develop accurate revenue projections along with extremely detailed estimates of necessary expenditures for the upcoming year. This way, the 2018 budget proposals for both new and continued spending are balanced and prudent.
We anticipate a 4.7% growth in revenues for 2018. For the first time since the financial and economic crisis of 2008/9 and ensuing austerity, we appear to be turning the corner to stronger revenue growth moving forward. This is primarily due to solid economic, membership and revenue growth in our largest provinces of Ontario, Quebec and British Columbia.
Our revenue growth fell from 6% in 2008 to barely above 2% in 2015 and 2016. Our projections for 2018 show that despite regional variations, overall revenue growth should continue to improve throughout the next year. We anticipate that our membership growth of 1.6% will be a bit higher than what we have seen in the last years.
At this Board meeting, I will recommend a budget that I believe will address many of the challenges facing CUPE, while continuing to ensure stability for the years to come.
Public Services International 30th World Congress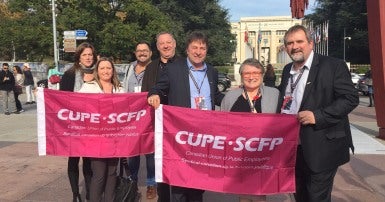 I was honored to represent CUPE as part of our delegation at the Public Services International 30th World Congress meeting in Geneva in November. CUPE continues to participate in the global trade union federation representing over 20 million public services workers across the world from 650 unions in 148 countries and territories.
The PSI World Congress is an opportunity for leaders and activists from these unions to come together to share strategies and build unity in our collective struggle to promote and fight for quality public services and trade union rights around the world. Delegates spent the week discussing and debating a Program of Action that sets out objectives for the next five years, focused on "defending a strong democratic state and an inclusive society, committed to ensuring gender equality, respect and dignity for all, economic development for the benefit of all, redistribution of wealth and strengthened workers' power."
I intervened during the debate on Just Transition where I advocated for "full publicly-owned utilities to ensure that workers, their families and their communities are part of the energy choices made for the future generations, including a fair and just transition for the workers being displaced." PSI concluded the week with a Pledge to End Violence Against Women.
Saskatchewan
In October the week following our National convention, I was very fortunate to be able to attend the historic founding meeting of the new provincial local for health care workers in Saskatchewan. CUPE Local 5430 is an amalgamation of the five former health care locals in the province. As a result of this merger, CUPE healthcare workers will be more coordinated, more unified and stronger. I renewed our commitment to providing substantial financial resources to each of the campaigns and other significant challenges in the year ahead.
On this trip, I also addressed the Saskatchewan Education Workers' Steering Committee Conference. CUPE members in this sector are dealing with the fallout of the Saskatchewan Party's imposed wage freezes, roll backs and layoffs. Public sector workers have also been forced to take unpaid days off, while the government has also taken away local control of school board districts. I pledged the support of CUPE members across the country and the full campaign resources of CUPE National.
Ontario Council of Hospital Unions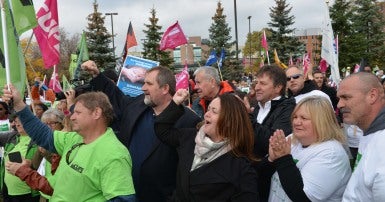 Joining hundreds of CUPE healthcare activists from across Ontario, I participated in the Ottawa rally to support OCHU's call for increased hospital funding, held at the Montfort Hospital, a symbol of Franco-Ontarians' resistance in the face of unjust provincial government policies.
We also rallied in support of OCHU's opposition to the Ontario Hospital Association's attempts to cut wages and benefits in the current round of bargaining. CUPE National is providing significant resources to support the bargaining fights including the powerful anti-violence campaign the OCHU has taken on across the province.
CPAS and CPSS – Quebec
I was happy to participate in two provincial sector meetings in Quebec in October. I went to the Social Sector Provincial Council convention where I had the privilege of meeting some new members who just joined as a result of the representation votes. The delegates were in good spirit while looking at the challenges ahead.
I also spent some time at the Education Support Provincial Council annual general meeting. The participants had the chance to discuss the introduction of kindergarten classes for four-year-old children and the impact on their day to day work.
It is always a pleasure to be invited to meet and address members of my own province.
FINANCIAL STATEMENTS FOR THE QUARTER ENDED SEPTEMBER 30, 2017
 
General Fund
The total assets in the General Fund at September 30, 2017 were $272.2 million compared to $266.4 million at June 30, 2017 and $235.1 million at December 31, 2016. The items of significance are discussed below.
The bank balance at September 30, 2017 was $30.4 million compared to $27.2 million at June 30, 2017 and $23.0 million at December 31, 2016. The bank balance includes various internal cash reserves which are set aside for retirement payouts, future benefits funding, OSBCC liability, property management, the 2017 Convention and the Regional Building Fund.
The total liabilities in the General Fund were $203.7 million at September 30, 2017, up from $200.4 million at June 30, 2017.
Due to the good governance CUPE established by creating the Roadmap on the Employee Future Benefit Liability in 2005, we are continuing to make progress toward the goal of recording the full liability on the Balance Sheet. Due to inflation, rising health costs, rising salaries, etc., it is usual to expect the real liability to increase each year.
The true liability at December 31, 2016 stood at $186.0 million, in comparison to $184.4 million at the end of 2015. The December 31, 2016 Balance Sheet has recorded a liability of $107.3 million leaving an unrecorded gap of $78.7 million compared to a gap of $87.5 million at the end of 2015. During the first nine months of the year we have recorded an additional $10.3 million of the liability, bringing the total recorded liability to $117.6 million.
The Fund Balance at September 30, 2017 is $68.5 million of which a total of $1 million is restricted for the Convention and National Events Assistance Fund. The Regional Building Fund was fully decreased reflecting the amount of cash we have invested in the new BCRO project. Of the remaining Fund Balance, we have invested $60.5 million in fixed assets leaving an unrestricted balance of $7 million. This means that virtually all of the equity in the General Fund is spoken for either in terms of being allocated for a restricted purpose or tied up in fixed assets.
The preliminary operating surplus (before the provision for the Regional Building Fund and Unrealized Gain on Investments) for the quarter is $3.0 million, as compared to a budgeted deficit of $3.2 million. Per Capita revenue is ahead of budget by $3.0 million, bringing total revenue ahead by $4.4 million. Total Expenses are under budget by $1,827,307.
Strategic Directions, Fightback Fund and the Fairness project are $2.0 million under budget in aggregate.
Fixed Staffing continues to run under with costs at $645,000 below budget. This budget line has been underspent for a number of years now and was carefully reviewed and reduced by $500,000 for the 2017 budget. It will be further analyzed in detail during the 2018 budget preparation.
Offices Expenses are $388,000 underspent. We are watching closely to see if this trend continues as we believe it is as a result of the emphasis on printing and photocopying. This line will also be further analyzed in detail during the 2018 budget preparation.
National Committees are currently $187,000 over budget due to the timing of meetings that have taken place during the year to date.
National Defence Fund
As at September 30, 2017, we have $14.2 million in Total Assets compared to $13.5 million at June 30, 2017 and $16.3 million at December 31, 2016. The cash balance at
September 30, 2017 is $2.8 million compared to $2.0 million at June 30, 2017. In addition, we have investments totalling $9.7 million on the books at September 30, 2017, unchanged from the prior period.
Under Liabilities we have accounts payable and accrued liabilities of $408,000 compared to $584,000 at June 30, 2017. There is also $5.7 million in cost-sharing campaigns' liability, up from $5.5 million at the end of the previous quarter. Finally, there is $426,000 owed to the General Fund at the end of September.
Cost-shared campaigns approved by the National Executive Board thus far for 2017 totalled $3,200,835 of the annual budget of $3.3 million. Major Organizing expenses were $3,185,036, while National Strategic Initiatives totalled $1,564,745. Spending on Regional Strategic Initiatives totalled $409,254.
National Strike Fund
Total Assets in the National Strike Fund as of September 30, 2017 were $95.3 million, as compared to $94.7 million as at June 30, 2017, and $95.0 million as at December 31, 2016. These assets consisted of $2.8 million in cash, $1.5 million in per capita receivable and $91.0 million in investments.
Under Liabilities we have accounts payable and accrued liabilities as well as a payable to the General Fund totalling $23,000, down from $187,000 in June 30, 2017.
At September 30, 2017 the Fund Balance was $95.3 million, up from $94.5 million in June 30, 2017 and $94.7 million at December 31, 2016
Revenue into the Strike Fund, including investment income, was $9.2 million as at September 30, 2017. Expenditures also totalled $9.2 million. This results in a net surplus
for the year to date of $332, before taking into account unrealized investment gains of $610,413.
STRIKES, LOCKOUTS AND SETTLEMENTS
Local 4545 – Municipality of Laval (Blue Collars), rotating walkouts of 35 members since October 28, 2017. Agreement reached on Sunday, November 26.
PER CAPITA ARREARS
For the quarter ended September 2017 the total arrears were $6,779,223 which was a decrease of $1,268,967 or 15.77% from the previous quarter ended June 2017. Total arrears have decreased 3.20% as compared to September 2016.
INFORMATION TECHNOLOGY (IT) REPORT
The Information Management/Information Technology (IMIT) plan continues to progress with oversight by the IMIT Steering Committee. In the upcoming months, the IT Branch's primary focus will be on: the final development and testing of the new automated Expense Claim Statement System, launching new releases of the Member Relationship Management System (MRMS), continuing to move to stronger Electronic Document and Records Management (EDRM) across CUPE, and further enhancements of CUPE's IT infrastructure for staff including the BCRO office move.
In early December, the next release of MRMS (R3B) will see additional features added to the Education module with inclusion of scheduling workshops and schools across the regions, on-line registration, centralized tracking of participation, preparing and sending of certificates and enhanced reporting.
This release will also see enhancements to the MRMS LUI module which include the capability to view the Locals Charter and Bargaining Unit Certificates.
The CUPEcloud Project (formally Electronic Document and Records Management or EDRM)
Phase I of the CUPEcloud Project is almost complete and with the help of 35 Information Leads (ILs) across the country, progress on the file cleanup efforts are tracking well, with significant work being done by all departments and regions.
IT Infrastructure:
Operations
Building on the rollout of the Skype For Business at CUPE National, the ORO and BCRO, CUPE IT has continued rolling out Skype for Business all other Regional offices. Testing of the software solution for reception staff continues and the migration of meeting rooms and toll-free numbers for CUPE National, the ORO and BCRO has begun with a target completion for end of 2017. The target is to have all offices except for those in Saskatchewan, fully converted to Skype for Business by early 2018. The cost savings expected with this move is significant as it will mean an end to investing in expensive telephone systems, more collaboration and more online meetings.
PROPERTIES AND LEASEHOLDS
We are nearing the completion of the interior fit-up at the new BCRO. Our project team is working diligently to create a modern, flexible and respectful work environment which will encourage exchange of ideas and collaboration. We will be moving into the new premises in the early part of the new year.
We are presently at various stages of development on several new leasehold improvements and renovations projects in Barrie, Kenora, Bathurst, Winnipeg and Abbotsford.
We are working on building system repairs and modifications in several properties. As part of our budget submission for 2018, we have included capital expenditures in several of our buildings. Pending approval of the budget, this would be the first year of our 15-year capital expenditure program designed to uphold the value of our real estate portfolio, extend its useful life and ensure it continues to meet our operational requirements.
CONFERENCES AND EVENTS
CUPE's Twenty-Eighth Biennial Convention took place at the Metro Toronto Convention Centre from October 2 to 6, 2017 with 2,159 registered delegates and 193 registered alternates.
CUPE continues to plan several training sessions, branch meetings and a National Executive Board Meeting all before the end of year. In addition to events taking place in 2017, we are busy planning meetings for 2018 which include branch meetings, National Executive Board Meetings, the All Committees' Meeting as well as our third Sector Council Conference taking place in Ottawa next fall.
This year was a very busy year for the CUPE convention office and there is no slowing down in 2018. CUPE continues to bring our committee members and staff together from across the nation, giving them an opportunity to discuss key issues that touch their lives and the lives of all CUPE members.
TRAINING AND DEVELOPMENT
Capacity Building
In British Columbia in early 2018, UDD will be training selected members to replenish and strengthen our team of member facilitators. When we select members, we consider geographic coverage in regions, diversity, bilingual capacity, experience within CUPE and the skills required to effectively facilitate participatory workshops that draw upon the experience of our members.
Member facilitators are a key component of CUPE's education program. Member facilitators combined with Education Representatives, UDD Senior Officers, and other CUPE staff people are an excellent team of educators. Maintaining and building this strong, large, and effective team is a long-term priority that enables CUPE to serve its members, create stronger locals, promote diversity, and train more activist leaders.
In November, we provided another advanced training session for selected staff and member facilitators. With the assistance of the Canadian Mental Health Association (CMHA), we train high level facilitators to deliver mental health workshops in a responsible and professional manner on what can be volatile issues. The ongoing collaboration with the CMHA in developing and delivering workshops that focus on mental health in the workplace has been successful in supporting our educational initiative.
We apply a class lens and an equality lens to the workshops. The entire catalogue of workshops is available in French and English. All the core workshops that locals absolutely require to function effectively and to meet legal responsibilities are now available:
Bargaining Education Program
Duty to Accommodate
Financial Officers
Health and Safety Learning Series
Human Rights
Local Executive Training
Steward Learning Series
The catalogue of workshops has many other offerings beyond the core workshops that assist CUPE members and locals who are active on so many fronts. We also provide response programming as situations arise for locals and assist with conferences when needed.
PENSION ADMINISTRATION
The Joint Board of Trustees (JBT) held its last meeting of the year in early December. The focus of the meeting was to review performance results and to discuss future strategies for the upcoming year with the five Investment Managers of the Plan.
Following the filing of the January 1, 2017 actuarial valuation with the regulators, the employer contribution rate has slightly increased from 14.31% to 14.35% for years 2017 and 2018. At the time of filing, the Administrator of the Plan, the Joint Board of Trustees, elected to take advantage of the funding relief measures available under the Ontario legislation and additional special payments of $12,838,800 per year, to fund the new solvency deficiency are deferred to year 2019, pending the Ontario`s pension funding reform framework.
Since the beginning of 2017, the Plan's market value solvency ratio has slightly decreased from 91.3% to an estimated ratio of 90.6% at November 1, 2017. The investment performance of the Plan is estimated at 4.14%, as at September 30, 2017.
The Plan held three pre-retirement seminars to eligible pension plan members and their spouses in 2017. Seminars were held in Ottawa, Toronto and Vancouver.
The Pension Administration staff are currently preparing for the 2017 year-end.
Retirements
Sister Linda A. Carey, Kenora Area Office, – November 1, 2017
Sister Betty Morin, Medicine Hat Area Office – January 1, 2018
Brother Serge Morin, Quebec Area Office – February 1, 2018
Brother William A. Robb, Union Development Department – February 1, 2018
Brother Ronald Cloutier, Quebec Regional Office – February 1, 2018
Sister Yvonne Fast, Alberta Regional Office – February 1, 2018
Brother Paul O'Donnell, Research, Job Evaluation, Health & Safety Branch – May 1, 2018
Sister Elizabeth Sutherland, New Glasgow Area Office – June 1, 2018
CONCLUSION
As we face many challenges across the country, CUPE has allocated the resources to face these demands. While we continue to increase our capacity to support each other across sectors and regions, we also recognize the need to continue to build our community and labor alliances. Our 2018 budget reflects these commitments and priorities.
As we approach the holiday season, we can all be incredibly proud of our collective accomplishments this year. I wish each of you and all CUPE members a restful and happy holiday time with friends and family. See you in 2018!
Respectfully submitted,
CHARLES FLEURY
National Secretary-Treasurer