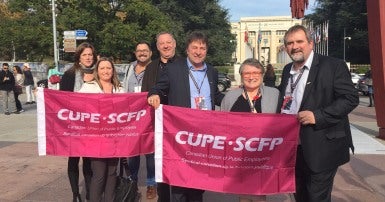 People Over Profit is the theme of the Public Service International 30th World Congress held October 30 to November 3 in Geneva, Switzerland. Public Services International (PSI) is a global trade union federation representing over 20 million women and men working in public services around the world.
CUPE National President Mark Hancock is leading a 7-person CUPE delegation to this congress, which includes Brother Charles Fleury, National Secretary-Treasurer, Sister Nan McFadgen, CUPE Nova Scotia President, Brother Benoit Bouchard, Secretary General CUPE Quebec along with three staff members in support of the delegation, Sisters Tania Jarzebiak and Kelti Cameron and Brother Michael Butler. CUPE has been an active affiliate of PSI for over 50 years.
PSI represents more than 650 unions in 148 countries and territories. The World Congress is an opportunity for leaders and activists from these unions to come together to share strategies and build unity in our collective struggle to promote and fight for quality public services and trade union rights around the world. Delegates have spent the week discussing and debating a Program of Action that sets out objectives for the next five years, focused on "defending a strong democratic state and an inclusive society, committed to ensuring gender equality, respect and dignity for all, economic development for the benefit of all, redistribution of wealth and strengthened workers' power."
Brother Mark participated on a panel entitled: "Heaven or Hell: Sustainable urbanisation and public services" where he spoke about CUPE's history fighting privatization and shared examples of successful remunicipalization campaigns. Brother Charles intervened during the debate on Just Transition where he pleaded for "full publicly-owned utilities to ensure workers, their families and their communities are part of the energy choices made for the future generations, including a fair and just transition for the workers being displaced."
Sister Nan shared with the congress how CUPE conducts an "abilities audit" prior to every CUPE National Convention to ensure our conventions are accessible and inclusive. She challenged the PSI to ensure that the environment we hold our conferences and congresses in is accessible to all, stating "we cannot take our employers to task without meeting the test ourselves."
CUPE's resolution on Canada's Anti-Terror Act 2015 (Bill C-51) was well received by the congress.  We know that governments around the world have used the "war on terror" to justify the violation of civil liberties and restrict the right to protest. The experiences of our allies in countries such as the Philippines, Colombia and Turkey show that trade unionists who are fighting against union busting, and indigenous activists fighting against multinational mining companies, are labelled as "national security threats" and "terrorists" to justify shutting down their resistance activities. Brother Mark told congress delegates that "we stand firmly in favour of the right of every individual to organize and take part in peaceful protest – not just in Canada, but around the world."
PSI concluded the week with a Pledge to End Violence Against Women.