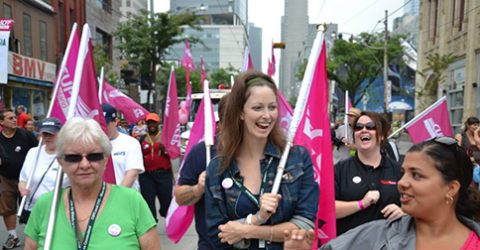 For many, Labour Day marks the last weekend of summer. But we must still remember the original purpose when it was made an official holiday in 1894; as a time to reflect on the contributions made by working people through the labour movement to our communities and country.
While some argue that Canada weathered the global economic crisis better than many other countries, the recovery from this recession has been tepid. In terms of economic growth, the recovery has been weaker than those following recessions in the 1980's and 1990's. With growth stuck around two per cent for the past four years many Canadians continue to experience challenges.
Over 1.3 million Canadians are unemployed, and the unemployment rate for young workers is double that of the rest of the population in most regions of the country at over 13 per cent. One in five jobless workers has been out of work for more than 27 weeks.  None of these key economic indicators have returned anywhere near their pre-recession levels.
Like other advanced economies, Canada has lost hundreds of thousands of manufacturing jobs in the past decade.  Most of these jobs were good paying union jobs with pensions and benefits. 
Labour force development issues abound in our country. The Temporary Foreign Workers program has been exposed as not much more than a wage subsidy for the service sector and fast food industry. This is not what this program was designed for. 
In terms of worker training, Canadian employers are near the bottom of the pack when compared to other industrialized nations on investment in their own workforces.
Canadian workers levels of personal debt are at all time highs, because wages have gone up little in real terms for the past 25 years. Canadian corporations, the main benefactors of tax cuts, are sitting on a record amount of cash reserves - over $600 billion today.
So on this Labour Day, we are calling on all Canadian governments to take real action on making our country a better place to live and recognize that fairness works for all Canadians. We need an immediate expansion of the Canada Pension Plan, so that all workers can retire in dignity.  We call for strong workplace health and safety laws so every worker can come home after every work day, and a national child care program to support all working families.
And as CUPE members join our brothers and sisters in the labour movement to march in parades and attend picnics across the country, we will reflect on our accomplishments and celebrate on what we've done together to make Canada a better place to live for everyone over the past century - pensions, safer and healthier workplaces, raising the bar for wages and benefits for all workers, just to name a few.
We will not just be celebrating our work, but we'll also be supporting our communities, as unions have done for generations. We will reflect on our proud history supporting social justice, as Labour Day is a time to remember our role as trade unionists in fighting for equality and fairness.
This Labour Day, the 120th as an official holiday, we will celebrate all we've accomplished, and to commit our support to all workers, whose collective efforts make Canada the great country it is today.
In solidarity,
Paul Moist
National President
Charles Fleury
National Secretary-Treasurer