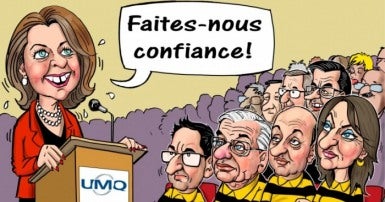 Following the "untrustworthy" [Les pas fiables] postcard campaign and the province-wide "negotiate as equals" campaign [Négocier d'égal à égal, c'est fondamental !], CUPE is bringing the issue to the forefront once more – this time with a cartoon satyrizing the Union des municipalités du Québec (UMQ).
"CUPE commissioned a caricature to invite Quebecers who are tired of unjust, illegitimate, unconstitutional laws to rally on May 12." The bill promised to the elected officials by the Liberals, commonly known as the "tax deal", is awful. It would create an imbalance of forces at the negotiating table and thus undercut a fundamental right: the right to free bargaining," said Denis Bolduc, secretary-general of CUPE.
Free negotiation, without State intervention, without decrees, is a fundamental right in a free and democratic society. Even considering handing this power to a mayor or a legislator (given the recent decisions of the courts), despite any rules that the government might try to impose, is a serious matter.
"On May 12, we will demonstrate in large numbers in Quebec City to remind the municipal representatives of this province that free, balanced negotiation works. We know a thing or two about that. As the largest union in the municipal sector in Quebec, CUPE settles dozens of collective agreements annually at the negotiating table, without labour disputes," concluded Bolduc.