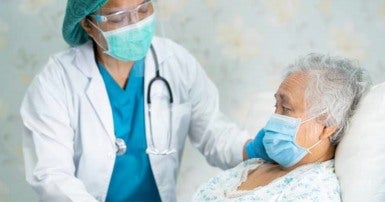 A new poll from Probe Research, commissioned by CUPE, has found that two thirds of Manitobans would want the government or non-profit agencies to take over at least some privately operated personal care homes in the province, with nearly 40% saying all private personal care homes should become public or non-profit.
The poll further finds that over half of Manitobans do not trust private companies (like Revera) to provide good quality care to the elderly and chronically ill, and that eight-in-ten Manitobans do trust non-profit organizations and the government (like Regional Health Authorities) to provide good care.
"Manitobans have seen first-hand the critical need for strong, public and non-profit care for our elders," said Abe Araya, President of CUPE Manitoba. "The Manitoba government needs to phase out private for-profit care homes and invest in a strong public system."
More than half of all COVID-19 related deaths in Manitoba have been in long-term care facilities, with many in privately operated care homes.
Overwhelming majority of Manitobans support legislated minimum staffing requirements in care homes.
Ninety-four percent of Manitobans support regulations that would increase the minimum staffing levels at long-term care homes. Support for increased staffing levels runs across party lines, and finds support in both rural communities and Winnipeg.
"CUPE has been calling for increased staffing levels in long term care homes for years," said Araya. "Manitobans understand the critical need to legislate minimum staffing levels so we can get our seniors the care and attention they deserve, now and post-COVID-19."
On May 27, 2020, NDP healthcare critic Uzoma Asagwara introduced a bill to legislate mandatory minimum staffing requirements for long term care homes, however the Pallister government used their majority to filibuster it, preventing it from being debated in the last legislative session.
"It is unfortunate that the government missed this chance to do the right thing for our seniors," said Araya. "With such a wide range of Manitobans supporting legislation on minimum staffing levels, you would think the government would act."
The poll ran between November 24 and December 4, 2020, surveying a random and representative sampling of 1,000 adults residing in Manitoba.
Download the full report and data tables here.
CUPE represents approximately 19,000 health care support workers in Manitoba, including in both private and personal care homes.