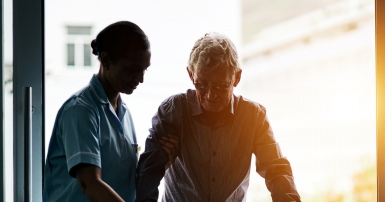 The NB Council of Nursing Home Unions (NBCNHU), representing more than 4,600 nursing home workers, is demanding immediate action from Premier Higgs to solve the understaffing crisis in long-term care. The NBCNHU held an online press conference to demand Premier Higgs put in place a 4$ wage increase for all CUPE classifications in long-term care homes.

"Residents are not getting the minimum care hours guaranteed under the Nursing Homes Act because of the critical lack of staff" denounced Sharon Teare, President of the NBCNHU. "It's time the Premier made some bold moves to fix the crisis and got ahead of the curve," said Teare.

In August 2021, The Federal government promised to invest $9 billion to address the dangerous shortfalls in Canada's long-term-care sector that were exposed by the pandemic. This includes a 25$ per-hour minimum wage for personal support workers (PSWs) across Canada. On average, CUPE nursing home workers in New Brunswick earn 21$ per hour, which is among the lowest wages in this sector in the country.
"The Federal government will pitch in to do its part to correct the injustices, what is Higgs waiting for," asked Teare. "We say its' about time Higgs did his part. Québec, Ontario and many other provinces improved wages for long-term-care workers to fix their recruitment and retention crisis," she added.

Compared to other Canadian provinces, New Brunswick still is in the bottom when it comes to investing in the front lines during this pandemic.
"Last week, the members in Edmundston sounded the alarm on residents getting only 1.8 hours of daily hands-on care because of understaffing. This week, we got similar reports coming from Bathurst, Saint John, Woodstock, and in so many other places.  Seniors are going without baths for whole weeks, they stay in bed all day and are even dying alone, because of serious short staffing. It's getting worse as months go by," said Teare.
During the conference, the NBCNHU presented a "Letter of Agreement," prepared and signed so that the Premier can immediately put in place a 4$ increase for nursing home workers. "We just need his signature on this sheet, which would then be added to the NBCNHU collective agreement. This would make sense, as it brings workers to the 25$ an hour adjustment which is coming our way for 2021-2022," said Teare.[1]  
The NBCNHU ended its conference by explaining how receiving the federal funds requires cooperation from the provincial government. "Higgs should not waste any more time to improve the situation of workers and wait to be the last one to act, like he did on childcare funding," added Teare. "The crisis is real, but the money is there. All we need is political will from Fredericton. Working families and our most vulnerable need to be prioritized," concluded Teare.