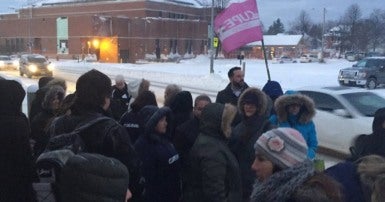 ​CUPE representatives expressed concern and disappointment that the Children's Aid Society (CAS) of the District of Nipissing and Parry Sound had allowed yesterday's mediation talks to break off without progress towards a deal that protects the region's child welfare services.
"The meeting with the provincial mediator was an opportunity to find common ground between the union and Nipissing and Parry Sound children's aid and prevent vital services from being disrupted," said Fran Bélanger, national representative for CUPE.
"Unfortunately, the society had nothing to offer its frontline, administrative and support workers, other than the deal that 96% of them turned down just last week. We interpret that failure as the CAS's intention to lock out frontline and other workers from their jobs when the December 23 deadline arrives."
In fact, in a letter dated December 8, the executive director of Nipissing and Parry Sound CAS advised all staff that "effective 12:01 a.m., December 23, 2016… all union member wages will cease."
Nevertheless, CUPE urged directors at Nipissing and Parry Sound CAS to turn their minds toward finding a way forward to avoid putting vulnerable children, youth and families at risk of losing important services.
"We need a partner in negotiations that is as determined as we are about defending the quality of child welfare services to children in the north," said Bélanger.
"CUPE members will only be satisfied with an agreement that helps to ensure the safety of children and youth in our northern communities," concluded Debbie Hill, president of CUPE 2049, which represents workers at Nipissing and Parry Sound CAS.