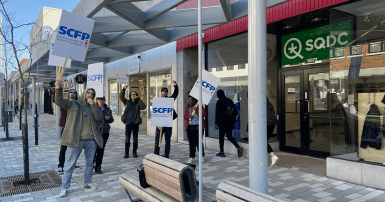 Members of the Société québécoise du cannabis (SQDC), represented by CUPE 5454, went on strike this Thursday afternoon in 22 branches across Quebec.

This surprise two hours strike, from 3 p.m. to 5 p.m., is a direct response to the meagre wage offer made  by the Crown corporation in the course of negotiating their collective agreement. These workers are being insulted by the employer's wage offer, which would further impoverish them. Currently, these workers earn barely $17/h upon hiring and the majority do not have a full-time position or job security, which puts them in a precarious position.

"The members are angry! We have been trying for months to negotiate decent working conditions worthy of a crown corporation, but the SQDC chose instead to table a wage offer that would keep us in poverty. Our patience has reached its limits and if our employer does not come to their senses, the next few weeks will be hectic!" , warned David Clément, president of the SQDC (CUPE 5454).

This first walkout may not be the last, since 91 per cent of SQDC employees voted in February 2022 for a mandate to initiate pressure tactics up to the unlimited general strike at the time deemed appropriate.

As inflation exceeds 5 per cent and the price of rent and food continues to rise, our employer stubbornly offers us crumbs and scorns our work. It is simply outrageous how this employer treats its employees while generating more income," said Sarah Nasar, CUPE 5454 vice-president.
CUPE 5454 represents more than 300 SQDC members who work in 26 branches across Quebec.